Money Printing Is Our Best Bet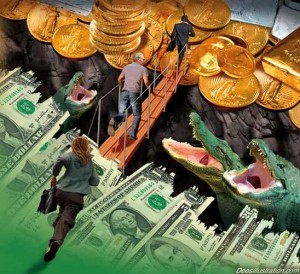 By Greg Hunter's
Monday started out with a bang!  There were strong earnings reported from some big banks, manufacturing rose for the 12th straight month, construction spending edged up (mainly due to government projects) and the stock market jumped 200 points.  Problem solved—economy back on track, right? Wrong!  Tuesday, everything changed.  Some of the auto manufacturers did not have as much earnings growth as anticipated, data was released that consumers are reluctant to spend money; and even though manufacturing rose for 12 straight months, new orders dramatically tapered off during the last three.  Yesterday, a Reuters story spun the sour economic news this way, "Even though recent data has suggested slowing growth, most economists see low probability of another severe downturn in the near future." (Click here for the complete Reuters story.)
 I don't know which "economists" Reuters is talking to because everybody from Paul Krugman to Alan Greenspan is warning about deflation and a double dip recession.  Economist John Williams at shadowstats.com has been forecasting another severe downturn in the economy for months, despite nearly $4 trillion in stimulus that was pumped into the banks and overall economy.  In his most recent report, Williams says, "Only politicians and Federal Reserve officials without viable options and Wall Street hypesters would claim that the current structural economic depression could be turned fundamentally by short-lived stimulus measures. Now, as the unaddressed structural issues reassert themselves, the problems at home are at the base of the renewed systemic woes. . ."   
So, while the stimulus is wearing off, the contraction is intensifying.  According to Williams, this is producing some unexpected consequences such as, ". . . additional explosive growth in the federal deficit, an unexpected further surge in Treasury funding needs, and unexpected renewed solvency concerns for the banking system. Such conditions are bad news for the U.S. equity and credit markets."  I interpret this to mean stocks and bonds are going to take a hit sooner than later.  Long term, think dollar lower and gold higher.  Your main concern right now should be a return of capital and not a return on capital.   
How will the Federal Reserve battle a contracting economy and dreaded deflation?  Look no further than St. Louis Fed President James Bullard.  In a CNBC interview last Friday, he said, "Quantitative Easing is our best bet."  Quantitative Easing, or QE, is money printing–pure and simple.  Bullard wants more inflation, and with interest rates already at nearly zero percent, there is little else the Fed can do.  Don't think Bullard is "off the reservation" because his boss, Ben Bernanke, recently told Congressional leaders, ". . . we remain prepared to take further policy actions as needed to foster a return to full utilization of our nation's productive potential . . . ."  (Click here to see more from Bernanke from a post called, Irrational Exuberance to Unusually Uncertain.)
Please watch the CNBC interview below of Mr. Bullard.  To me, he appears anxious and nervous as he talks about wanting to produce more inflation!
If the Fed wants inflation, it will surely get it with massive amounts of money printing.  Yesterday's Wall Street Journal article echoes that thought by reporting, "A senior fund manager at bond-fund giant Pacific Investment Management Co. said Tuesday it is "extremely unlikely" the U.S. could see Japan-like deflation given that the Federal Reserve has the tools to combat a downward spiral in consumer prices."  (Click here for more on the story from the WSJ.)
So, the way it looks, there is definitely another plunge coming to the economy.  That will be followed by more stimulus and money printing (QE) and another rise in the economy.  At some point, this stomach churning roller coaster ride will come to an end.  Let's hope we don't make the U.S. dollar puke in the process.