MSM Distracting Public from Real Crime, Social Censorship is Here, Dark Economic Update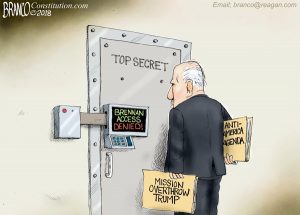 By Greg Hunter's USAWatchdog.com (WNW 349 8.24.18)
It's a game of "look over here" and not at the real crimes that have been committed. Now, the mainstream media (MSM) has gone hysterical on former Trump lawyer Michael Cohen pleading guilty to a crime that is not a crime. It's about Trump paying off a porn star and a playmate to keep quiet about their affairs, but it's not a campaign violation to pay your own money, and that is what Trump did. Legal scholars agree. This is just one more bogus story to get the public distracted to the real felony crimes by Hillary Clinton and many others in the Obama Administration in a failed coup to remove Trump from office.
Looks like the social media giants are continuing to censor and remove conservative voices from their platforms just in time for the midterm elections. They simply want Democrats to win and are desperate because the so-called Blue Wave looks like it is going to be a blue fizzle. Is it time to unpack the anti-trust laws for these powerful social media companies to level the playing field so all voices are heard?
Donald Trump has helped the economy since he was elected, but he walked into office with huge problems like $20 trillion in federal debt and, surprise, $21 trillion additional "missing" at DOD and HUD. Trump has certainly bought us some time, but a debt reset cometh, and for the unprepared, it will be a brutal wakeup call.
Join Greg Hunter as he analyzes these stories and more in the Weekly News Wrap-Up.
(This post is about fake new by the MSM to distract the public, censorship at social media companies, and a not-so-rosy economic update.)
(To Donate to USAWatchdog.com Click Here)
After the Wrap-Up:
Renowned gold and financial experts Jim Sinclair and Bill Holter of JSMineset.com will be the guests for the Early Sunday Release. They have a special warning about what is coming for the economy and financial debt reset that they say has already started and CANNOT be stopped.