MSM Press is Propaganda, Trump Fights Back, Crop Report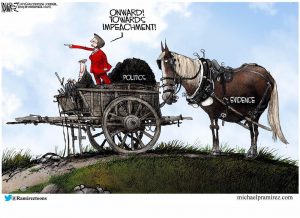 By Greg Hunter's USAWatchdog.com (WNW 405 10.11.19)
The mainstream media has gone full blown propaganda, especially when reporting on all things President Trump. They lie by omission and outright lie. They produce phony stories like the two years of Trump/Russia collusion, and they produce phony polls all in an effort to turn the public against President Trump. Democrats and their globalist/Marxist masters want Trump gone because he's stopping their wet dream of world domination and a New World Order. Trump is in the way, and his voters want him to stay right where he is.
Speaker of the House Nancy Pelosi is conducting another witch hunt against President Trump with new false charges. Pelosi and Democrats are desperate to stop Trump from indicting them for bribery, malfeasance and the failed coup they hatched with the FBI, DOJ and CIA. Democrats are desperate not only to get the President out of office, but they want to stay out of jail.
The USDA has been telling us that yields on corn and soybeans are going to be down while prices are going to be up. But just how far down are the yields going to be, and how far up are prices going? The USDA is forecasting yields will be down only a few percentage points from last year, but a new report says it will be way worse than the USDA has been forecasting.
Join Greg Hunter of USAWatchdog.com as he talks about the top stories in the Weekly News Wrap-Up.
(To Donate to USAWatchdog.com Click Here)
(Update: You Tube has now monetized this video. Thank You,, YouTube.)
After the Wrap-Up:
Award winning journalist Dr. Paul Craig Roberts will be the guest for the Early Sunday Release. He talks about the Deep State and evil oligarchs using Democrats to try to boot President Trump from office. He will make a stunning prediction.