Next Financial Calamity Unavoidable-John Embry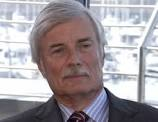 By Greg Hunter's USAWatchdog.com 
John Embry, Senior Investment Strategist at Sprott Asset Management, says there is no doubt another financial calamity is coming.  In fact, Embry says, "It's unavoidable.  It's inevitable is the word I would use.  There is no getting out of it.  If you thought 2008 was bad, and I thought it was terrible, this time, there is no ammunition left.  You can't take interest rates any lower.  All you can do is print even more money.  That really didn't work the last time.  The safety nets are largely gone if we do run into something untoward, and it could be fairly soon.  I don't think there is really anything left to stave it off.  I don't think they will refuel the period from 2015 to 2020 like they did after 2008.  I think it will be much uglier than that."
One thing that could touch off the next meltdown is the Greek debt crisis.  Embry contends, "I think it is extraordinarily serious because there is no palatable solution.  Why I say there is no palatable solution is, theoretically, if you loan people money, I think it is incumbent on you to make sure they can pay you back.  In this instant, the Europeans put more and more debt on the backs of the Greeks to keep them current.  Now, when it has become obvious that they are utterly insolvent, they just can't sort of dismiss them easily.  This paper is all through the European system.  I believe there are a lot of credit default swaps written on it too.  If the Greeks walked away from this and essentially default on the paper, I think this is a major story.  The fact that they are trying to down play it probably speaks to the fact that it is a major story.  I think there is a possibility of a Greek exit (from the EU) and if that happens, we are going to be facing an awful lot of financial chaos."
Embry goes on to explain, "To me, I can see just two avenues at this point.  You can have a hard debt deflation where you clean the debt out of the system like we did in the 1930's, but look what that cost us–years of depression and a great world war.  The other alternative, and they apparently are going down that path as we speak, is to just keep printing enough money to keep everything afloat.  But if you do that long enough, you are headed for a currency debacle and probably some sort of hyperinflation.  Either scenario, the endgame is not good.  We are buying time right now, but we are not correcting anything."
So, do the powers that be just gun it and run it until it blows up?  Embry says, "That is without question.  These are smart people, they have made some mistakes, but they are basically smart people.  They recognize that we are beyond the pale, and the economies are extraordinarily weak because of the excessive debt loads. . . . You see more and more warnings from people who are part of the system.  They know full well there is no easy solution; so, consequently, they are starting to tell the public the truth a bit."
How will gold and silver do in the next meltdown?  Embry contends, "I find stocks severely overvalued, and I find bonds more overvalued, and I would lump urban real estate into that category as well.  So, traditional assets are extremely overvalued.  To me, the two really undervalued assets are gold and silver.  They are significantly undervalued and everybody hates them. . . . Embry goes on to charge, "I would say gold and silver are as cheap as they were when gold was $250 an ounce and silver was $5 per ounce.  They are the cheapest assets on the planet."
Join Greg Hunter as he goes One-on-One with financial expert John Embry of Sprott Asset Management.
(There is much more in the video interview.)
After the Interview:
Embry writes an original article a month, as do many other senior officers at Sprott.   The articles and analysis are free and can be found on Sprott.com.