NK Missiles Can Hit DC, Record Stock Market Again, Bitcoin Bubble?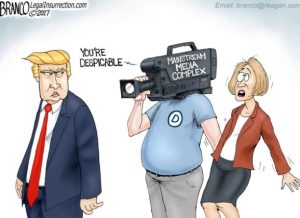 By Greg Hunter's USAWatchdog.com (WNW 311 12.1.17)
North Korea had another very successful missile test. This time it went 10 times higher than the international space station.  Secretary of Defense James Mattis says this proves North Korean ballistic missiles can now reach Washington or anywhere else in the world.  President Trump was quoted as saying "We'll take care of it," but didn't explain what he meant.  Trump also said of the North Korean Missile launch, "It is a situation that we will handle."  UN Ambassador Nikki Haley was blunter and said, "If war comes, make no mistake, the North Korean regime will be utterly destroyed."  At the very least, more sanctions are coming for North Korea.
The stock markets set new record all-time highs—again. This time it was on the news that Senator John McCain said he was going to vote for the GOP tax cut package.  You remember during the partial repeal of Obama Care, McCain was the vote that killed the deal.  Meanwhile, all is not a rosy picture, and many are warning that valuations are high and the yield curve is signaling recession.  One of those people doing the warning was none other than outgoing Fed Head Janet Yellen.
Whether you are a fan of Bitcoin or not, one thing is for sure. It's been on one wild ride this year.  Bitcoin shot over $10,000 a unit all the way up past $11,000.  Then it fell 20%, but it's still way up for the year.  Now, Bitcoin has gotten the attention of the White House, Homeland Security and the Fed.  The Federal Reserve is now saying that Bitcoin could "pose financial stability issues."  Could the U.S government try to make Bitcoin illegal?
Join Greg Hunter as he looks at these stories and more in the Weekly News Wrap-Up.
Correction:  I meant to say that the North Korean ballistic missile went 2,800 miles up into space and not 28,000.
(To Donate to USAWatchdog.com Click Here) 
After the Wrap-Up: 
The "Early Sunday Release" will feature Dr. Mark Skidmore. He's a professor at Michigan State University and is an expert in public financing and government budgets.  He will talk about his recent research project into U.S. government budgets where he discovered $21 trillion in what he calls "missing money."  Find out why this is a huge threat to U.S. national security and our Constitution.