North Korea Success, Iran & Israel Tangle, Blue Wave Sinks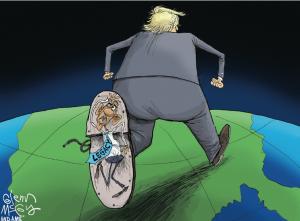 By Greg Hunter's USAWatchdog.com (WNW 334 5.11.18)
Even the biased propaganda of the mainstream media (MSM) had to call what is happening in North Korea a good thing. Will Trump win the Nobel Peace Prize?  Who knows, but there is zero doubt that Trump has made more progress on North Korea than any president since Truman.
Iran has been building military bases in Syria for war, and Israel is attacking them. Syria is also attacking Israel in what looks to be a new chapter in the Syrian conflict.
This week featured several primaries in multiple states. Instead of a so-called "Blue Wave" hitting the political shores, what we saw was a blue fizzle and laid bare the advantage the Democrats have been touting for the upcoming 2018 mid-terms.  The Dems are running on tax increases, impeachment of Trump, destroying the 2nd Amendment and basic Marxism.  That is a very tough bill to sell without outright lying and cheating, which is what I predict the Dems will have to resort to come November.
Join Greg Hunter as he talks about the top stories in America and around the world in the Weekly News Wrap-Up.
(To Donate to USAWatchdog.com Click Here) 
After the wrap-Up:  
Dr. Dave Janda from Operation Freedom, with his excellent sources and intellect, will be the guest for the Early Sunday Release.