Obamagate Intensifies, MSM Cover Up Again, Crop Report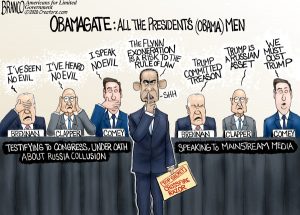 By Greg Hunter's USAWatchdog.com (WNW 431 5,15,2020)
President Trump is calling out former President Obama about the soft coup he was pushing. Evidence is mounting the Obama Administration was conspiring to kick Trump out of office with lies about his ties to Russia. Trump is simply calling it Obamagate and is doing so to his nearly 80 million Twitter followers.
The mainstream media (MSM) falsely told us all how President Trump was a Russian spy for nearly three years. It was a HUGE LIE as evidence shows that the Obama Administration simply made it all up. Trump is asking the Senate to bring former President Obama in to tell what he knew and when he knew it.
The crop growing season has gotten off to a cold wet start in the Midwest. Is this going to negatively affect food supply and prices this coming year? Greg will talk about what's going on in farm country.
Join Greg Hunter of USAWatchdog.com as he talks about these stories and more in the Weekly News Wrap-Up.
(To Donate to USAWatchdog.com Click Here)
After the Wrap-Up:
Analyst Bo Polny will be the guest for the Early Sunday Release and will tell us all what is coming next for the economy.