Pelosi Halloween Impeachment Trick, Fed Cuts, Gabbard Scam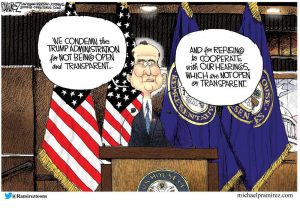 By Greg Hunter's USAWatchdog.com (WNW 408 11.1.19)
Speaker of the House Nancy Pelosi passed a resolution that makes official the unfairness of the lopsided so-called Impeachment Inquiry. The resolution gives all the power to the Democrats and leaves zero due process to the President or the Republicans. The only way Democrats can make up evidence is to make it unfair. This looks like a desperate attempt to remove a duly elected President by total fraud. This is simply a Halloween trick to make the public think this is fair.  The Pelosi/Schiff impeachment inquiry is anything but fair and now it's official.
The Federal Reserve cut a key rate again by .25%. Fed Head Jay Powell says don't count on another rate cut anytime soon. The Fed is digging in on more cuts even though the economy is slowing down. What gives?
Congresswoman Tulsi Gabbard has been lionized with her anti-war stance, but is she really a standup person looking out for "We the People"? The short answer is no, and she just voted for the totally unfair impeachment process. It looks like there is a lot more "rot" in the Democrat party than Hillary Clinton as Gabbard has recently charged. Oh, by the way, both Gabbard and Clinton are members of the anti "We the People" Council on Foreign Relations (CFR). Birds of a feather flock together now don't they?
Join Greg Hunter of USAWatchdog.com as he talks about these stories and more in the Weekly News Wrap-Up.
(To Donate to USAWatchdog.com click here)  (Update:  After more than 30,000 views with little or no monetization, YouTube has decided everything is OK and this video is suitable for advertisers.  This is how they punish the truth and try to hide their actions.  Thank you for supporting USAW!!!  )
After the Wrap-Up: 
Renowned radio host and filmmaker Steve Quayle will be the guest for the "Early Sunday Release." He will reveal the extreme danger mounting for America and the world with long dormant volcanos that are suddenly are showing signs of becoming active.