Perspective On A Long and Deep Real Estate Downturn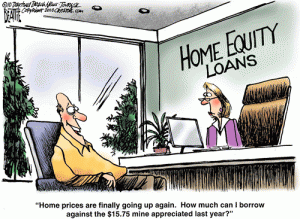 By Greg Hunter's USAWatchdog.com 
Many people I talk to and hear from are having a really hard time grasping how severe the real estate crisis is in America.  Let me sum up how bad the problem  is in one simple  sentence.  The real estate market (both residential and commercial) is the worst EVER!   According to Yale Economics Professor Robert Shiller, the real estate boom a few years ago was the biggest in history!  The bust we find ourselves in now will, also, be the biggest in history. 
Take this comment I received from a USAWatchdog reader last week.  He asked,  "Are you preaching that I rent a house rather than get a mortgage? Because getting a mortgage puts me in debt for 30 years? No you wouldn't say that because everyone knows that at least with a mortgage you are actually getting a house."   The latest housing figures released just last Friday from the National Association of Realtors report home sales are down 7.2 percent in January.  In another report, prices are down an additional 10% in some regions of the country.  Yes, with a mortgage you will get a house, but how much of your down payment will be there in 2 or 3 years?
People keep asking if is this a good time to buy a home?   Shiller, also one of the founders of the Case-Shiller Home Price Index,  told USAWatchdog just last month in an exclusive interview, "Even if (interest) rates do not go up, prices can still go down."  Guess what?—they did!  Shiller also stated that the housing market is "being supported by the government."   Meaning, the government is printing money to buy bonds to artificially suppress mortgage interest rates.  What happens when that "support" stops?   You are going to hear another giant "thud" and it will, once again, be the real estate market.
The commercial real estate market will be the next giant debt problem America will face.  In the next 5 years, $1.4 trillion in short term loans will need refinancing.  Things such as malls, office buildings, hotels, and other commercial real estate have fallen in value so much the bad debt will  likely take down 3,000 community banks.   That is 40% of the banking system!  Elizabeth Warren, Chairman of the Congressional Oversight Panel, says, "There will be significant bankruptcies among developers and significant failures among community banks."  Warren talked about the coming commercial real estate problem below in a video recorded in mid February:

The rough ride in real estate will be very long.  Prices will not bottom until after 2013 at the very least.   What we have is not just a  problem in real estate–but a threat to the stability of the entire economy.  My advice, be conservative in your investments and protect your capital because you will need it before this financial crisis is over.