Real Estate Market Gets Worse Before Getting Better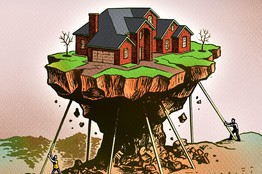 By Greg Hunter's USAWatchdog.com
I have been sour on real estate since I sold my home in Florida in 2006.  Back then, I predicted home prices were headed for a crash.  Many people thought I was crazy for saying it.  Today, my former Florida home is probably worth a little more than half of the selling price.
In one of my first articles on USAWatchdog.com in August of 2009, I said this about the real estate market forecast, "This does not mean there are not bargains out there in the market, but let's not confuse a plateau on a downward trend as a bottom.  Please keep the picture above on your "favorites" and every time you hear "the real estate crisis has bottomed" take a long look at it.  When I gaze at the Credit Suisse chart, I do not see a bottom until at least 2012." (Click here to read the complete original post) The picture I am talking about comes from Credit Suisse Bank.  It is actually a chart that has been updated since that post.  Please check it out on the left side of the screen below: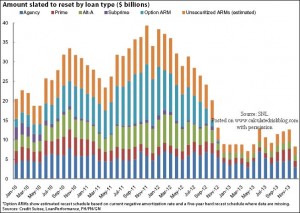 I updated my "2012" real estate bottom in March of 2010 to be "2013 at the very least" because Credit Suisse updated their chart.  The most recent chart shows the resets don't really slow way down until around October 2012.  Back when I made my first real estate bottom prediction, there were plenty of people who thought I was too negative on the real estate market.  Today, I look downright optimistic.  A Philly.com story out this week said, "If you were hoping to sell your house for top dollar in the next few months, you'd better wait.  Until 2014, or maybe later.  That's when 54 percent of Americans responding to a semiannual survey by two real estate search engines believe the housing market will recover from its now four-year-old malaise.  Six months ago, when Trulia and RealtyTrac had Harris Interactive poll more than 2,000 adults 18 and older online, 42 percent estimated 2014 as the turning point." (Click here for the complete Philly.com story.)
Foreclosures are the biggest drag on housing prices.  MSNBC reported last week, "Since the housing market peaked in 2006, some 6.5 million homes have been lost to foreclosure. There are likely another 4.3 million more homeowners who are "seriously delinquent," meaning they are more than three months behind in their payments, according to data released by the Mortgage Bankers Association this week. Many of those homeowners will soon enter the foreclosure pipeline." (Click here for the MSNBC story.) Banks are sitting on nearly a million foreclosed properties and are expecting to take back another million homes this year.
Even though the Credit Suisse chart above shows the resets will crest at the end of this year, housing prices could keep going down for some time to come.  The Wall Street Journal reported a week and a half ago, ". . . Zillow.com reported that real-estate prices fell nationwide in March for the 57th month in a row, echoing other home-price indexes that have kept dropping and defying hopes of a recovery in housing values. Economists are forecasting a decline of 1.4% for 2011.  And, while unlikely, "a 30-year decline in home prices [adjusted for inflation] is certainly a possibility," says Yale University economist Robert Shiller.  It wouldn't be the first time prices dropped over three decades' time; they fell by 14% cumulatively, after inflation, between 1912 and 1945, according to Prof. Shiller's data." (Click here for the complete WSJ report.)
In past interviews with me, Professor Shiller said real estate declines are on average "10 years" in length.  What happened in the last decade was the biggest real estate boom and bust in history.  It was a global phenomenon according to Professor Shiller.  I don't know how much further prices could decline, but we are nowhere near the bottom.  Home values are still falling right now, and that is despite low mortgage rates of around 5%.  The Federal Reserve has been keeping rates suppressed artificially by purchasing government and private debt.  (Please read "the Fed's Biggest Fear.") When that stops, interest rates will go back up to a more normal level.  What will happen to home prices then?  My real estate market forecast is they will surely drop more.