Recount Madness, California Fires, Credit Crisis Coming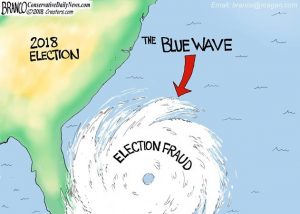 By Greg Hunter's USAWatchdog.com (WNW 360 11/16/18)
The Recount has hit a whole new level for the 2018 Midterm elections in voter fraud prone Florida. It looks like Ron DeSantis will be the next governor, but the race between Scott and Nelson is coming down to the wire. Democrats say every vote should be counted, but not when they are illegal aliens and dead people.
California wildfires are still not under control, but long after they are, the citizens of the Golden State will feel the financial effects. It will cost at least $30 billion and will likely bankrupt the state's biggest power company. Then there are the mudslides coming in the next rainy season. With vegetation burned to a crisp, what is going to hold the dirt in place? The answer is "not much."
In the world of AAA credit, GE used to be the gold standard. Now, GE and the words "junk bonds" are being mentioned in the same sentence. GE is not alone. With the global economy showing clear signs of slowing down, and the Fed clearly raising interest rates, how will bond payments be made in the future? They are not.
Join Greg Hunter as he talks about these stories and more in the Weekly News Wrap-Up.
(To Donate to USAWatchdog.com Click Here)
After the Interview:
Macro-economic analyst Rob Kirby will take the pulse of the global economy and talk about the extreme tightness in the global gold and silver markets.