Stealth Austerity Already Hitting the U.S.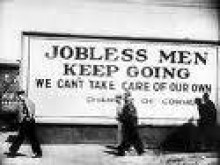 By Greg Hunter's
Last week, at the G20 meeting in Toronto, there was much discussion about money printing for bailouts and cutbacks for austerity.  These were the two main options talked about to deal with the economic malaise facing the globe.   The U.S. is firmly in the money printing camp.  Europe, on the other hand, is officially taking the cutback and austerity path.  Who knows how either will turn out?  Phil Davis of Phil's Stock World sums up the official G20 statement on the meeting this way,  "There's 26 pages of this nonsense but the gist of it is:  We promise to keep bailing out the economies but as soon as that's done then we are right on top of this deficit thing."  (Click here for Phil's complete article.)
Money printing and austerity are not simply about choosing one or the other.  I think both will happen, more or less, at the same time.  Like it or not, what I call stealth austerity is already hitting America.  Just look at individual state budgets that are covered in red ink.  Last Friday, a Bloomberg headline read: "States of Crisis for 46 Governments Facing Greek-Style Deficits."  California alone has a budget shortfall of more than $19 billion, and that does not include the state's under funded pension liabilities.  The Bloomberg story said, "Forty-six states face budget shortfalls that add up to $112 billion for the fiscal year ending next June, according to the Center on Budget and Policy Priorities, a Washington research institution . . . . "States are going to have to cut back spending and raise taxes the same way Greece and Spain are," says Dean Baker, co- director of the Center for Economic and Policy Research in Washington. "That runs counter to stimulating the economy and will put a big damper on the recovery in the latter half of this year." (Click here for the complete Bloomberg story.)   
Banking analyst Meredith Whitney thinks state deficits are much higher.  Recently, on CNBC, she said, "As far as the United States are concerned, Obama has proposed a $50 billion bailout package for the states but the states are underwater $200 billion, so it's really a drop in the bucket."  All this red ink will lead to layoffs, pay cuts, pension cuts, and cuts to all kinds of programs that help poor people.  States cannot print money, and there surely will not be enough federal money to bailout every state.
Census jobs have been a temporary bright spot, largely credited with holding unemployment below the 10% mark.   When you take a closer look at this type of employment, a dark picture emerges.  For one, census workers do not get benefits.  Also, these jobs are being done by people who could not find work anywhere else, and most are being paid less, on average, than their old jobs.  The census is in the process of winding down work, and more than 240,000 were fired in June alone.  Another 300,000 census workers will be let go in the next few months and will, once again, be without jobs.
There are 1.3 million Americans that are losing their unemployment benefits.  A bill to extend emergency pay to the long term unemployed was killed in the Senate last week because fears of the deficit growing too large.  (Do you think Senators worry about the little guy as much as the bankers?  I think not.)  This is money that is almost immediately recycled back into the economy.  That money has now been cut off with no additional legislation or real jobs in sight.  Millions more will run out of unemployment benefits in the future.
As the ranks of the unemployed swell, so will foreclosures and defaults on all sorts of debt.  Here is a story from a Southern California newspaper that came out just a few days ago.  The headline read: "Unemployed dumping car leases."  The story said, "The unemployed are walking away from their car leases in droves as more laid-off workers see their jobless benefits cut off, reports Lease Trader.com."  The company said it, "noted the surge in listings coincides with the failure by Congress to approve HB 4213, a bill that would allow extended unemployment benefits through November."  (Click here for the complete story.)
This is what stealth austerity looks like.  Pretty soon, it will be uncloaked and brought out into the light of day.  When that happens, it will be like the economy taking a nose dive into the deep end of a swimming pool with no water to cushion the plunge.