Steele Cuts Deal to Talk, Mexico Blinks on Border, Economic Update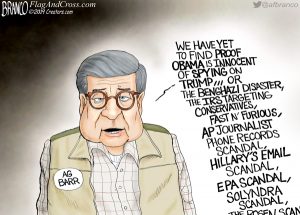 By Greg Hunter's USAwatchdog.com (WNW 387 6.7.19)
The biggest news in the Trump/Russia collusion hoax is Christopher Steele, the former MI6 British spy, has cut a deal to testify. Did Steele get immunity? He was the architect of the phony "Trump Dossier" used in an attempted frame job of President Trump. It was also used to get fraudulent approval to spy on Trump, his campaign and Administration. The Dossier is at the center of all the Trump troubles–and it was paid for by Hillary Clinton. This means Hillary Clinton is also at the center of the Russia collusion hoax against President Trump.
President Trump is imposing tariffs on Mexico because of its lack of help controlling the masses traveling through their country to enter the USA. Mexico asked for an emergency meeting with Trump officials to stop the tariffs from taking place on Monday. Mexico says it is freezing bank accounts of traffickers and sending 6,000 troops to the southern border of Mexico to stop the flows as a show of good faith. No deal has been worked out yet. Did Mexico blink? Yep.
Fed Head Jerome Powell is signaling a rate cut is on the way. He claims it's because of trade wars, but he knows it's really because the economy is slowing down—way down. There is also talk at the Fed about bringing back QE, good old fashion money printing, if the economy slips into recession. Is there any wonder why gold is jumping in price?
Join Greg Hunter of USAWatchdog.com as he talks about these stories and more in the Weekly News Wrap-Up.
(To Donate to USAWatchdog.com Click Here)
After the Wrap-Up: 
Financial analyst Craig Hempke of TFMetals Report.com will be the guest for the Early Sunday Release.