Syria War Update, Economy Tanking, No Fed Rate Hike, MSM Dem Super-Pac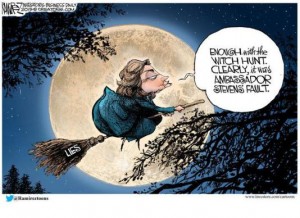 Greg Hunter's USAWatchdog.com (WNW 214 10.30.15)

The U.S. Middle East policy is getting more confusing and more dangerous. They are talking peace while sending more troops to Iraq and Syria. Iran is now also invited to the peace table in Vienna to try and find a solution to the five year Syrian civil war. The Iranians and Russians are backing Bashar al-Assad, and the U.S. wants him gone. I don't see how this will happen peacefully when it hasn't been done with force and more than 250,000 dead in the crisis. Is John Kerry just going to talk Assad out of power now that Russia is clearly keeping him in power by force? He's not leaving.
Meanwhile, the U.S. is going to be sending "advisers" into Iraq and Syria. The program to train and arm the so-called "moderate rebels" was a disaster. The Pentagon had a hard time finding the so-called "moderate rebels" to train. The U.S. will not have that much of a problem in Iraq but will have to fight alongside of Iran and forces friendly to Iran. Syria will present a huge and dangerous problem. How are the U.S. advisers going to not be captured by ISIS or al Qaeda? How long do you think it will take to see U.S. forces beheaded on camera? On top of that, U.S. Secretary of Defense Ash Carter said, this week, he is now going to have "direct action on the ground." Russia is protesting U.S. ground forces being used in Syria, calling that "illegal" and a "big mistake." So, the U.S. will fight with Russia and Iran against ISIS in Iraq, and fight against Iran and Russia alongside the "moderate rebels" being helped by al-Qaeda and ISIS in Syria?  What kind of foreign policy is this? This is both confusing and dangerous for our military.
Big surprise, the Fed is not going to raise rates. Here's where it gets "Baghdad Bob" funny. The Fed is still hinting that it will raise rates in December. You can't make this up and this is, yet another, blow to Fed credibility. They cannot afford to raise rates—ever. Every week it's one dreadful economic headline after another. On top of that, the coordination between global central banks seems to be ramping up even greater to continue to prop up the system. Gregory Mannarino (TradersChoice.net) says it used to be individual Fed Presidents making statements and individual central banks taking action. Now, Mannarino says it looks to be coordinated on a global scale. As the system gets weaker and weaker, the pressure and coordination by central banks increases. The only question is how long can this go on?
Here's a headline you should have seen from the GOP debate, "Democrats have the Ultimate Super PAC in MSM." That's what Senator and Presidential candidate Marco Rubio said, but the mainstream media (MSM) would not touch it. How about Dem front-runner "Hillary Clinton Exposed as Liar says Marco Rubio." Those should have been the headlines out of the GOP debate, and the MSM would have sold papers and gotten lots of attention and revenue. You will never see this because, as Rubio says, the MSM Clinton super PAC is helping her out and ignoring his quotes because the MSM knows they are true.
Join Greg Hunter for these stories and more in the Weekly News Wrap-Up.