The Big Lie Uncovered, Unemployment Canceled, Inflation is Here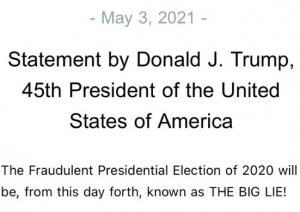 By Greg Hunter's USAWatchdog.com WNW 479 5.7.21)
President Trump is now calling the fraud of the 2020 Election "The Big Lie."  It's much bigger than the Russia collusion hoax, impeachment #1 and #2 combined.  It's all in the process of being unraveled in the ongoing audit in Arizona.  The Democrats are frantically trying to stop the audit.  If they cannot stop it, they will simply discredit it.  Even the DOJ is threatening to get involved as it might break federal election laws in a pre-crime kind of move.  This is the biggest story out there because if the Maricopa County Arizona audit uncovers fraud, it will be just the first election audit domino to fall.  The Democrats are watching all their power slip away as the audit progresses.  Keep your eyes on Arizona.
Montana is the first state to cancel unemployment benefits.  It is in response to the very tight labor market as the economy opens back up to an unprecedented worker shortage.  16 million people are still on some form of unemployment at the state or federal level.  Will other states follow Montana's move?
Inflation is roaring back, but the Federal Reserve and the Treasury Department seem to be at war with each other.  Fed Head Jay Powell says inflation will be "transitory."  Powell does not seem to be worried about inflation.  Meanwhile, Treasury Secretary Janet Yellen says rates are going to have to rise to keep the economy from "overheating."  In other words, Yellen is worried about inflation.  Which is it?  Well, check prices, and you will see just about everything is going up in price, especially commodities.  Gold, silver, lumber, steel, iron ore, corn, wheat and soy beans are all going up—way up.  That is inflation.  Many in the investment community do not believe it is "transitory" but here to stay and getting worse—much worse.
Join Greg Hunter of USAWatchdog.com as he talks about these stories and more in the Weekly News Wrap-Up for 5.7.21.
(Correction:  The Fed is supporting the repo market with $125 billion a month and NOT $1.25 trillion.)
(To Donate to USAWatchdog.com Click Here)
After the Wrap-Up
John Rubino, founder of the popular website DollarCollapse.com, will be the guest for the Saturday Night Post.  He's going to talk about the Federal Reserve, inflation, dollar, gold, silver and what you need to do now with inflation roaring back.