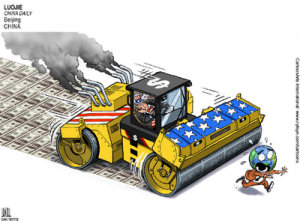 By Greg Hunter's USAWatchdog.com
If you believe government inflation rate numbers, inflation is 1.2%, according to the Consumer Price Index (CPI.)  That's how much prices rose last year.  Last week, Fed Chairman Ben Bernanke testified in front of the Republican controlled House of Representatives and inflation was a hot topic.  Even though the government says inflation is low, some lawmakers are not buying it.  The new leaders of key financial committees are not fans of the Federal Reserve or its money printing policies called quantitative easing (QE.)  The Fed continues to do this to suppress interest rates,  bail out banks and fund the government.  CNNMoney.com reports, "Paul Ryan, a Republican from Wisconsin who heads the committee, has been a vocal opponent of the Fed's recent stimulus policy, which pumps $600 billion into the economy through purchases of long-term Treasuries.  He said he fears the policy, known as quantitative easing, will cause inflation to accelerate rapidly, forming asset bubbles and crushing the dollar.  "There is nothing more insidious that a country can do to its citizens than debase its currency," Ryan said. . . . But Bernanke countered that quantitative easing would not permanently increase the money supply, since the Fed plans to reverse the policy once the economy recovers."  (Click here for the complete CNN story.)
Another obvious indication of inflation is this chart (below) from the Commodity Research Bureau (CRB).  Since October 2010, shortly before the start of the latest round of money printing (QE2), commodity prices are up around 20%.  This index tracks things like corn, whe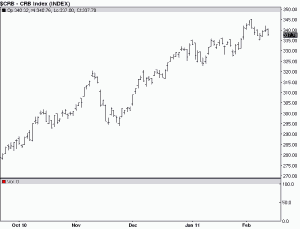 at, soybeans, cattle, oil, gold and silver, to name a few.
The idea the Fed can print money out of thin air and there not be an inflationary downside is preposterous.  We will have inflation, but looks like it will be reported as growth.  I wrote about this last month in a post called "Inflation is Here." Back then I said, "If not accounted for properly, inflation can appear to be growth when, in fact, it is nothing more than price increases.  For example, the latest spending numbers from the Christmas holiday season were reported as a record $462 billion.  A recent AP story said, "Just because Americans spent more this holiday season doesn't mean they bought more. A button-down shirt you bought your father in 2010 probably cost more than it would have three years ago. The government figures on which the National Retail Federation based its holiday total do not take into account rising prices."  (Click here to read the complete AP story.)
Jim Willie from Goldenjackass.com says expect more and more of the coming inflation to be reported as growth.  Mr. Willie wrote in his most recent post, "The main point is that price inflation will rise sharply, called economic growth, a process already begun. The USGovt and Wall Street handlers will ignore it, under-state it, and herald the return of growth as success of policy. The reality will be less growth, in a deeper decline into recession." (Click here to read the complete Goldenjackass.com post.)    
In the Congressional hearing last week, Bernanke maintains that inflation is low and points to Treasury inflation-protected securities (TIPS) as proof there is not a problem.  Currently, they are paying less than 2%, in line with inflation, right?—wrong.   TIPS are calculated using most of the same information that is used in calculating CPI.  The accounting gimmicks used by the government today make inflation look better than it actually is.  If inflation was calculated the way Bureau of Labor Statistics (BLS) did it in 1980, inflation for 2010 would be 8.9% (according to Shadowstats.com.)
In a recent Shadowstats.com report, economist John Williams said, "On the inflation front, however, where there is an overhang of $7 trillion or so outside the United States — being held at the whim of dollar investors — that has to be considered in the U.S. monetary picture.  Higher prices already are being seen in a number of dollar-denominated commodities, ranging from oil to food.  The higher prices are anticipating and fueling the early stages of Mr. Bernanke's desired debasement of the dollar."
In the closing paragraph of Mr. Krugman's Op-Ed piece last week, he said, "Wednesday's hearings aren't likely to have any immediate effect on monetary policy. But they offer a revealing — and appalling — look at the mind-set of one of our two major political parties." I am not a proponent of either party.  I want what's best for the country.  What I find "appalling" is a Federal Reserve secretly picking winners and losers.  The Fed issued $12.3 trillion in loans and giveaways to bail out everyone from Toyota to foreign banks.  $9 trillion of those transactions were "off balance sheet"that only saw the light of day because of a special provision slipped into the Dodd-Frank financial reform bill.  To say we can print money to rebuild our morbid economy with zero downside is foolish.  We are all living the low inflation lie.