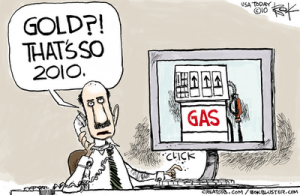 Greg Hunter's USAWatchdog.com
For months now, the Federal Reserve has been worried about inflation being too low.  So low, that the Fed claims it is unhealthy to the U.S. economy.  When it announced its second wave of money printing (QE2) in early November 2010, the Fed said, "Longer-term inflation expectations have remained stable, but measures of underlying inflation have trended lower in recent quarters. . . . To promote a stronger pace of economic recovery and to help ensure that inflation, over time, is at levels consistent with its mandate, the Committee decided today to expand its holdings of securities." (Click here to read the Complete Fed News release from November 2010.) That means the Fed started printing $75 billion a month, out of thin air, to finance more than half of the U.S. budget.  QE2 is scheduled to end in June, but many predict it will be immediately followed by some sort of QE3.
The mainstream media is spinning the latest consumer price numbers as good news, but inflation 2011 is here.  The Associated Press called inflation "tepid." The story went onto say, "The Labor Department said Friday that consumer prices rose 0.5 percent last month, the largest increase since June 2009. Roughly 80 percent of the increase was due to higher gas prices. . . . Without food and energy costs, consumer prices only increased by 0.1 percent for the second straight month. This "core" inflation rate has gained 0.8 percent in the past year, evidence that prices are not rising too quickly."  (Click here to read the entire AP story.) It would be nice to live in a world where you don't need food or energy, but that simply is not the case.
On the other hand, the Fed plan to stoke the fires of inflation is working nicely according to the latest report from economist John Williams at Shadowstats.com.  Williams strips away all the accounting gimmicks that make inflation look tamer than reality.  The Shadowstats.com report last Friday said, "There are numskulls in the financial media — toadies to the Federal Reserve — who would like to think that energy and food inflation do not count.  Simply put, the monthly December inflation releases for the CPI-U (annualized 6.2% inflation), CPI-W (annualized 7.8% inflation) and PPI (14.0% annualized inflation) were disasters . . ." The credit or the blame for the big spike in inflation is the direct fault of the Fed.  "The sharp increases in December energy and food prices were not due to normal price volatility in those areas, instead, they were created directly by Federal Reserve Chairman Bernanke's ongoing push to debase the U.S. dollar — to destroy the purchasing value of the U.S. currency," said Williams. (Click here to go to Shadowstats.com)
If not accounted for properly, inflation can appear to be growth when, in fact, it is nothing more than price increases.  For example, the latest spending numbers from the Christmas holiday season were reported as a record $462 billion.  A recent AP story said, "Just because Americans spent more this holiday season doesn't mean they bought more. A button-down shirt you bought your father in 2010 probably cost more than it would have three years ago. The government figures on which the National Retail Federation based its holiday total do not take into account rising prices."  (Click here to read the complete AP story.)
Jim Willie at GoldenJackass.com says you can expect inflation to be reported as growth by the government.  This will make it look like the economy is recovering when, in fact, it is sinking.  In his latest report, Willie said, "Not just emerging economies like China and Brazil are contending with price inflation. The US does too, but it calls it growth, since its economic trackers are much more accomplished decepticons. When job losses mount in the second half of 2011, the lies will be unmasked. The US Fed is the greatest destroyer of working capital in the history of the world. Their balance sheet is negative $1 trillion and growing worse, their highly appropriate report card."  (Click here to read the latest from the GoldenJackass.com.)
I have long said the only thing you can count on with this economy is inflation.  It looks like that prediction has already come true with rising fuel and food prices.  Inflation is here, and I predict it will get much worse.   But, of course, as long as you don't travel or eat, you won't feel a thing.