Trump Fires Comey, DNC Stopped FBI Russia Investigation, US Drought Over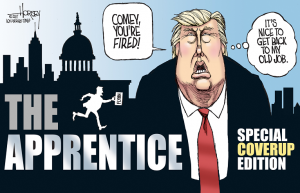 By Greg Hunter's USAWatchdog.com
(WNW 283 5.12.17)
Just like on Trump's hit TV show, the words "you're fired" hit FBI Director James Comey like a ton of bricks. President Donald Trump fired Comey because the White House says the Trump Administration has "lost confidence" in the FBI Director.  Democrats, who asked Comey be fired because of the Clinton Email probe, are now outraged over the firing and want a special prosecutor for the so-called Russia collusion investigation.
Meanwhile, you may remember that it was the Democratic National Committee (DNC) that stopped the FBI from looking at its servers during the reported Russia hacking attack on the Clinton campaign and the DNC. Why didn't Comey take the servers anyway if this "Russian hacking" was of such profound importance to U.S. election integrity?  The Democrats, including Hillary Clinton, have been blaming the Russians for their 2016 presidential loss.  Others say Clinton was a bad candidate that lost all on her own.
The drought plaguing America, especially the Western U.S., is over. Now, there is plenty of rain, and in some places, way too much.  Some areas in the Midwest received more than 11 inches of rain in less than two days.  Now, fields are too wet to plant for farmers, and there is concern that it won't dry up enough to get the planting done in time.
Join Greg Hunter as he talks about these stories and more in the Weekly News Wrap-Up.
(To Donate to USAWatchdog.com Click Here)