Trump Jr. Treason – NOT, Russian Lawyer Worked for Democrats, Fed Rate Update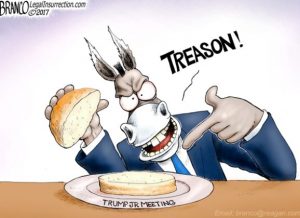 By Greg Hunter's USAWatchdog.com (WNW 292 7.14.17) 
There is still no there there with the Russian collusion story in its latest version featuring Donald Trump Jr. This looks more like an episode of "Punk'd," but there is no crime and no treason according to renowned lawyer Alan Dershowitz.  What this really is all about is a fight between good and evil.  It's that simple.  The Deep State and the MSM are doing everything they can to destroy Trump and his team.  This is why President Trump held a prayer meeting at the White House where ministers laid hands on him in a prayer circle.
Breitbart.com is out with a new story about how the Russian lawyer at the center of the Donald Trump Jr. Russian collusion hype has a long history of working with Democrats. Attorney General Loretta Lynch gave Natalia Veselnitskaya a "special" visa extension in 2015.  The question is why? The other question is how many traps are going to be set and debunked before the Deep State and the MSM accept that Donald Trump is the rightful elected President of the United States.
Fed Head Janet Yellen says the Federal Reserve may not raise rates much more, but that might not be enough to keep them from spiking when the Fed unloads its balance sheet of all the "toxic" mortgages it bought in the 2008 financial meltdown. Gregory Mannarino of TradersChoice.net says the Fed will not allow rates to rise because it would melt down the financial markets—again.
Join Greg Hunter as he talks about these stories and more in the Weekly News Wrap-Up.
After the Wrap-Up:
Gregory Mannarino of TradersChoice.net will be the guest for the "Early Sunday Release."
(To Donate to USAWatchdog.com Click Here)