Trump SOTU Speech A+, Democrats Push Socialism, Economy Teeters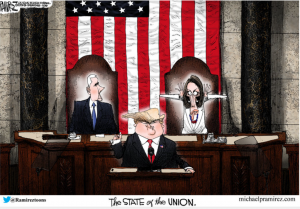 Greg Hunter's USAWatchdog.com (WNW 370 2.8.19)
President Trump earned an A+ in his State of the Union (SOTU) address in Congress this week. He laid out his vision for America, and according to the mainstream media polling, he received as high as 76% positive ratings. This is surprising because 90% of the coverage (Harvard & MRC research) of the Trump Administration has been negative since his inauguration two years ago. Will the Democrats work with the President and give him what he wants to build a wall on the southern border. It's not likely, and that means another government shutdown.
Democrats are now openly pushing for socialism. You need to look no further than the failed state of Venezuela to see what happens when socialism blows up, as it always does historically.   There are huge political and economic struggles going on there. Venezuela was once one of the most prosperous countries in South America before the socialism experiment, and the experiment has clearly failed. Trump says America will not turn into a socialist country under his watch.
On one hand, we are told the economy is great, and on the other hand, we are seeing evidence of debt crushing consumers and governments alike. How much bigger can the debt bubble be blown? We may be finding out this year.
Join Greg Hunter as he looks at these stories and more in the Weekly News Wrap-Up.
(To Donate to USAWatchdog.com Click Here)
After the Wrap-Up: 
Mark Taylor, author of "The Trump Prophecies," will be the guest for the Early Sunday Release.