Vax Attacks, Clapton Awakens, Red Hot Inflation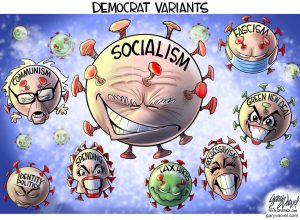 By Greg Hunter's USAWatchdog.com (WNW 489 7.23.21)
The propaganda and vax attacks to scare or coerce people to take the so-called "jab" are reaching new levels of lies and threats. Make no mistake, the mainstream propaganda media and government health experts will not even tell you this is, in fact, an experimental human drug trial to test a gene therapy CV19 vaccine. They will not tell you this is so dangerous that the Vax makers have zero liability if people get killed or injured. This mRNA is a new treatment never tried before and is rolling out on a reckless scale never before seen in human history. Why is the government telling you to take this jab?  The White house, this week, said this is "becoming a pandemic of the unvaccinated." This statement is being made while many fully vaccinated White House staff members are fighting new CV19 infections.  Of course, this is being downplayed and covered up–bad optic.  Also, new data has come out that in one of the most vaccinated countries on the planet, Israel, 84% of the new cases are with fully vaccinated people. There is also no mention of natural immunity which, according to John Hopkins Dr. Marty Makary, now stands at 50%. Natural immunity gives people a near zero percent chance of getting CV19 again, according to a new study from USC's school of medicine. Lies by omission and outright lies are coming from everywhere to get the public to take the jab. This is not about medicine.
It looks like rock legend Eric Clapton is no longer down with mass vaccinations. Clapton got fully vaxed a few months ago. He got so ill that he thought he would never play his guitar again. Now, Clapton says he will not play any venues where fans are required to be vaccinated. Is this liberals starting to wake up to the fact they have been poisoned and screwed with this "Plandemic"? You might remember that a few weeks ago, Internet data analyst Clif High said on USAW, when people figure out that they have been poisoned by the CV19 vax, they would strike back and be angry. A much higher percentage of liberals, according to Clif High, have fallen for the experimental gene therapy drug trial. He says 19 out of 20 Democrats have taken or will take the jab.
The Fed keeps telling us that inflation is going to be transitory, and things will fall in price and go back to normal soon. Nobody is buying this in the real world where people are watching their dollars fall in value and are paying more for just about everything. In simple terms, the dollar is tanking. Maybe this is why JP Morgan is the first big bank (with many to follow) that is putting high-net-worth clients into crypto currencies. Bo Polny says this is all part of a "Jubilee year which began in September of last year and ends in early September of this year." Polny says, "Expect to see in the next four to five weeks a fall of the dollar, the world's reserve currency. This could start as early as next week causing a run into tangible asset that include gold, silver and crypto currencies like Bitcoin. All hell is about to break loose on evil."
Join Greg Hunter of USAWatchdog.com as he talks about these stories and more in the Weekly News Wrap-Up 7.9.21.
(To Donate to USAWatchdog.com Click Here)
After the Wrap-Up:
Legendary financial and geopolitical cycle analyst Martin Armstrong will be the guest for the "Saturday Night Post." We will get his take on where we are on the economy and plan of the globalists to vax the world.