MSM Lies for Hillary, Russia US Closer to War, Economic Update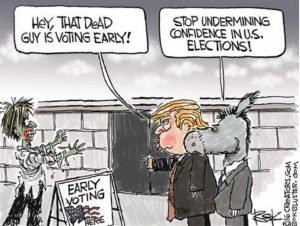 By Greg Hunter's USAWatchdog.com (WNW 259 10.21.16)
The mainstream media (MSM) is totally lying to the public about everything from voter fraud to Wiki Leaks. There are many current examples of possible voter fraud such as the recent revelation by the Pew Center that 24 million U.S. voter registrations are "significantly inaccurate." Pew Center also says there are 1.8 million dead people still on the voter rolls. The other part of the MSM lie is done by omission. The MSM is simply not covering major news stories that are negative to the Clinton campaign. I've said it before and I'll say it again, this is pure fraud on shareholders and the public by so-called news organizations that are really functioning as Democrat propaganda shills.
The U.S. and Russia are moving closer to war. Now, it is reported that Russia is preparing 40 million of its people for nuclear war with training exercises. Russia is also threatening the U.S. with "painful" retaliation if tougher sanctions are imposed.
Another big-time money manager is warning of a stock market crash. Mohamed El-Erian is warning of "enormous risk" and says it's better to be a seller of the stock market right now than a buyer.
Join Greg Hunter as he talks about these stories and more in the Weekly News Wrap-Up.