NATO's Turkey Starting War in Syria, Interest Rates Spike, New Wounded Warrior Book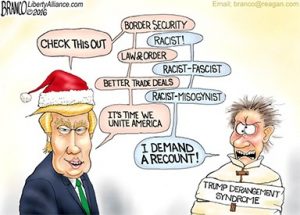 By Greg Hunter's USAWatchdog.com (WNW 262 12.2.16)
Turkey is invading Syria to force the Assad regime out. Could Turkey, a NATO member, drag the U.S. and NATO into a wider war in Syria?  The answer is yes.  The biggest threat is Russia that has a naval base and an air base in Syria.  Russia is propping up the Assad regime and does not look like it is leaving anytime soon.  Has NATO tacitly approved this action by not complaining or objecting to this new military action from Turkey?
The 10-year Treasury bond is vaulting higher, once again. On Thursday, it hit 2.45%, which is nearly an entire percentage point higher than it was in July.  Bondholders are losing value because of the rising rates.  $1.7 trillion was lost in the last month because of the bond meltdown according to Bloomberg.  Is it going to get worse?  Are rates going to continue to rise?  There is no sign of a turnaround in rates, especially with the Fed signaling of a rate increase at its next meeting in mid-December.
Timothy Payne lost his legs in combat in Iraq in 2011. He says in his new book, he was not a religious man but asked God to take his legs and spare his life.  If God did, Payne promised to work for him, and he is doing just that.  Payne is helping fellow vets cope with injuries and mental problems caused by war.  He also has become a motivational speaker and is out with a new book called "Chosen." 
Join Greg Hunter as he talks about these stories and more in the Weekly News Wrap-Up.
After the Wrap-Up:
To get a copy of Timothy Payne's new book titled "Chosen," please click here.   The book has garnered a five out of five star review on Amazon.com. Timothy Payne's website is ChosenLeadership.com.
Top economic and gold expert Jim Sinclair will be featured on the "Early Sunday Release." Sinclair is out with a new warning that the world has hit an inflection point that could bring disaster, especially for the unprepared.