Dems Out of Ideas Play Race Card, Fed Rates On Hold & More Iran Missiles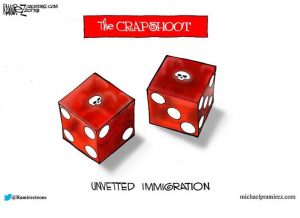 By Greg Hunter's USAWatchdog.com 
(WNW 271 2.10.17)
Senator Elizabeth Warren proves that the Democrat party is totally out of ideas to help the vast majority of Americans. In Senator Jeff Session's confirmation hearings for Attorney General in the Trump Administration, she resorted to character assassination.  Warren read a 1965 letter from Dr. Martin Luther King's widow, Coretta, saying Session obstructed blacks at the voting booth.  Warren failed to mention that, years later, Coretta King was thanking Sessions on video for helping to make the Rosa Parks library a reality.  Warren drew criticism from King's niece, Dr. Alveda King, who said Warren was playing the race card.  Sessions was voted in as Attorney General with the help of Senator Tim Scott.  He's an African American Republican Senator from South Carolina.  All the Dems have left are lies, election fraud and massive immigration to get new voters.
There was more war news from the Middle East last week as Iran fired another ballistic missile after being put "on notice" from the Trump Administration. The Iranians did it anyway and chided President Trump by calling him a "newcomer."   Meanwhile, the Russians say they accidentally killed three Turkish soldiers in Syria.  The Russians claim they were trying to attack ISIS positions with airstrikes.  Tensions are rising and not abating in the Middle East.
St. Louis Fed President James Bullard surprised Wall Street this week after saying interest rates "can remain low for at least 2017." Just a few months ago, Fed Head Janet Yellen said there would be at least three rate hikes in 2017.  Gregory Mannarino of TradersChoice.net thinks this announcement could drive the market higher, even though it's totally propped up by the Fed.
Join Greg Hunter as he talks about the week's biggest stories in the Weekly News Wrap-Up.