ISIS Terror in Belgium, Syria Peace Deal on Hold, US Fights ISIS in Iraq, Clinton Email Update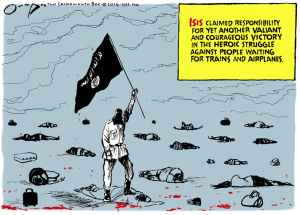 By Greg Hunter's USAWatchdog.com (WNW 232 3.25.16) 
The top story is the carnage and terror in Belgium. ISIS is claiming responsibility.  Even though there are suspects on the loose and anti-terror raids happening, there is still little known about how the size of an attack was pulled off.  ISIS says more attacks are on the way.  So, this is not the end, but the beginning of a long fight with radical Islam.  Analysis out this past week by the Gatestone Institute, an international policy think tank, says people in Europe are not really grasping what kind of a fight they have on their hands.  They say it comes down to "the ignorance, willful blindness and sheer incompetence" when it comes to Islam and "political Islam."
The report also says "Turkey's President Recep Tayyip Erdogan, also an Islamist leader, has repeatedly rejected Western attempts to portray his country as an example of 'moderate Islam.' He states that such a concept is 'ugly and offensive; there is no moderate Islam. Islam is Islam.' 
Meanwhile, the peace talks over Syrian civil war have wrapped up for now without a resolution. There is some sort of 12 point plan, but that plan does not call for Basher al-Assad's removal from office.  The parties, which include ISIS and al-Qaeda, the Syrian government, Russia and the U.S., will resume peace talks the second week in April.
In Iraq, it appears U.S. Marines are doing more and more fighting against ISIS. Reports are that Marines are trying to protect the oil fields in Kirkuk.  This shows that ISIS is far from defeated, and the U.S. is slipping back into action in Iraq.
According to some sources such as the Associated Press, "Legal experts see little chance of charges in Clinton email case." I guess there is little chance if you ignore all the evidence against her.  Meanwhile, Investor's Business Daily (IBD), in an Op-Ed piece, says, "Clinton Email Scandal: It's Time Hillary Suspended Her Campaign." Their sources say the FBI is going to push for charges.  Remember, they have Mrs. Clinton's private email server, and the DOJ has granted immunity to the person who set it up.
Join Greg Hunter as he looks at these stories and more in the Weekly News Wrap-Up.
Former Assistant Treasury Secretary in the Reagan Administration, Dr. Paul Craig Roberts, will be the next guest on USAWatchdog.com. Dr. Roberts will be an "Early Sunday Release."  He talk about terror, the global economy and his new book "The Neoconservative Threat to World Order."