High Alert on North Korea, Economy Down Again and Trump Tax Plan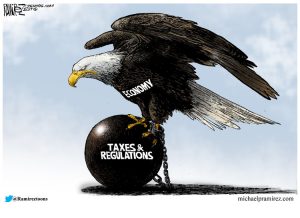 By Greg Hunter's USAWatchdog.com  (WNW 281 4.28.17)
Secretary of State Tillerson and other top U.S. officials have issued a dire warning on North Korea. In a press release this week, the Trump Administration says, "North Korea's pursuit of nuclear weapons is an urgent national security threat and top foreign policy priority."  This release was issued after a White House briefing to 100 Senators that detailed the possible threat.  Another ominous sign was the test firing of an unarmed ICBM at Vandenberg Air Force Base in California.  Meanwhile, North Korea has been making provocative videos showing a military nuclear strike on the United States and also a live fire drill with North Korean artillery.  Many of North Korea's artillery can easily reach Seoul, South Korea.
President Trump revealed a skeleton tax plan that his Administration says will be business friendly, spur growth and jobs. It proposes a top corporate tax rate of just 15%, and it doubles the standard deductions for most individuals, while taking away most private and corporate deductions.
Meanwhile, the real economy continues to show disintegrating results. The Atlanta Fed is now downgrading the growth in the first quarter to just .2 %.   On top of that, store closings are projected to surpass 8,000 nationwide.  At the top of the 2008 Great Recession, the store closings topped only 6,000 in the U.S.
Join Greg Hunter as he talks about these stories and more in the Weekly News Wrap-Up.
(There is much more in the video newscast.)
After the Wrap-Up:
Mike Maloney from goldSilver.com will be the "Early Sunday Release."
(To Donate to USAWatchdog.com Click Here)