Clinton Email Trouble Deepens, Bill Gross Economic Warning, Bathroom Gender Endgame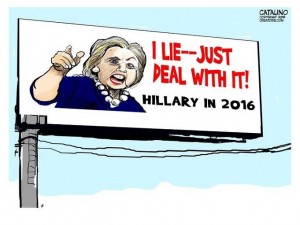 By Greg Hunter's USAWatchdog.com (WNW 239 5.27.16)
A new report by the Inspector General (IG) of the State Department puts Hillary Clinton in even deeper trouble over her unprotected email server that was installed in the bathroom of her home. The mainstream press finally picked up this story, even though it has largely ignored this latest Clinton scandal. The IG report says that Clinton broke the rules when she installed the private server without permission. The report also claims Ms. Clinton disregarded security policy with her private server. The Clinton camp says her use of a personal email account "was not unique," but others criticized Clinton for endangering national security. Please keep in mind, other Secretaries of State have used private email for some business, but no one has ever used a private server installed in their home while heading up the State Department. Clinton is also taking criticism from liberal media sources, and this may signal a coming lack of support from members of her own party. If Clinton loses the upcoming California primary to Bernie Sanders, it's over for Ms. Clinton.
If you think the economy is doing well, you should listen to Bill Gross. Gross is a bond expert so renowned that his nickname is "The Bond King." This past week, Gross expressed how worried he is about the financial markets and said, "The system itself is at risk," and Gross goes on to warn, "Day of reckoning is coming." When someone with the reputation of Bill Gross makes these kind of statements, you best take cover. This is one of many other warnings that have been coming from top names in the financial and investment world this year.
Finally, the Obama Administration and its edict on trans-gender bathroom access is heating up. Nearly a dozen states are suing the federal government charging Obama's bathroom policies are a gross overreach of his powers. The endgame is really unisex bathrooms and showers and locker rooms for all. The left wants to do away with separate male and female facilities altogether. For proof, look no further than a recent story by the Associated Press with a title that reads "All-gender restrooms are Yale's new normal." This is the test case for the extreme left and where it wants to take the country. I can't see how the overwhelming majority, especially women and parents, are going to buy into this line of thinking.
Join Greg Hunter as he talks about these stories and much more in the Weekly News Wrap-Up.