WHO in Charge?, Nothing is Working, 2,000 Mules Proves Fraud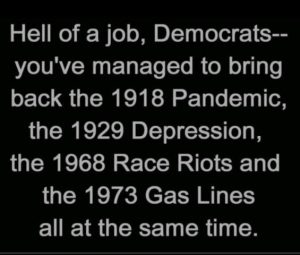 By Greg Hunter's USAWatchdog.com (WNW 529 5/13/22)
The Biden/Obama Administration looks like it will cede U.S. sovereignty over to the UN and World Health Organization (WHO) in the next pandemic.  This will allow the Director General of the WHO to declare a health emergency or crisis at his whim.  Is the Biden gang this desperate coming into the Mid-Term election in November?  Will the WHO step in to rig another election via another plandemic?  The Dems look sure to lose a fair election with voters struggling with sky high inflation.
Everywhere you look nothing is working for the Democrat party.  Fuel prices are hitting one record high after another.  There are shortages in just about everything.  The war in Ukraine is not going well, and the sanctions on Russia are backfiring.  And yet, the Biden/Obama Administration keeps causing pain, and it looks like it's being done on purpose.  Why?  Maybe they don't have to have a wining election cycle to stay in power.  Maybe they have other plans?
The movie 2,000 Mules is out, and it made $1 million in a matter of hours.  Many say it proves massive ballot fraud in the November election of 2020.  Now, the so-called "fact checkers" are weighing in trying to tell everyone this is all a lie, but they don't have much of a case.  I think the movie 2,000 Mules has been largely ignored by legacy media because they cannot disprove the election fraud, some of which is caught on camera.  Is Joe Biden an illegitimate President?  The filmmakers of 2,000 Mules say yes.
Join Greg Hunter of USAWatchdog.com as he talks about these stories and more in the Weekly news Wrap-Up for 5.13.22.
(To Donate to USAWatchdog.com Click Here)
(If you are having trouble seeing the video, unplug your modem for 20 secs to clear the codes that censor USAW content.  Also, try a different browser for the same reason.)
After the Interview: 
Biblical analyst of time Bo Polny, the man that correctly predicted the overturning of the Roe v. Wade historic abortion case, will be the guest for the Saturday Night Post.   He will tell us why the elimination of Roe v. Wade is so important for the future of America.  Polny will talk about many other current subjects as well.