Will Market Manipulation Stop Gold and Silver from Rising?
By Greg Hunter's USAWatchdog.com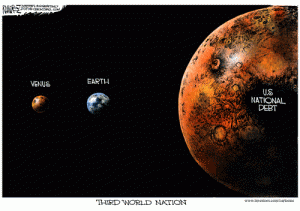 There are plenty of folks flocking to the internet these days to tell the world why gold and, particularly, silver are finished as an investment and wealth protection opportunity.  Some are even screaming to sell now before gold and silver prices tank.  To give you an example of what I am talking about, I want to share a comment with you from a reader named Michael.  Last week, he wrote me and said, "You are incorrect that gold/silver will go up in value like you have stated on your site. There is too much manipulation going on behind the scenes to ever let it go too much past where it is. And the same goes for housing. Will interest rates go up? Yes, but not leading to a housing collapse. It will lead to regrowth.  For you and all of the others that think gold/silver will shoot up much higher, I feel bad for you. You have normalcy bias towards this and your mindset is too rigid to see the truth…which is the market manipulation that goes on behind the scenes that will continue indefinitely IN SOME FORM OR ANOTHER that you nor anyone else can predict!"
My answer to Michael said, "The Fed bailed out the world to the tune of $12.3 trillion. More than $12 trillion in liquid assets are held outside the country. The days of the U.S. dollar being used as the world reserve currency are numbered. These are just a few of the reasons gold will rise in price relative to the dollar. With all due respect to you, I do not have normalcy bias. I have facts and they all point to a currency crisis in the U.S. dollar. . . . It will go much higher regardless of the manipulation that will not be able to counter the overwhelming trend. Your only argument against gold and silver is "there is too much manipulation behind the scenes to ever let it go up much past where it is." There was no manipulation in the markets before this year? I think not, and you offer a very weak argument on this point. Please don't feel bad for me. Feel bad for yourself for missing a heck of a run so far." (Click here to read the comment section from the original post.) As far as housing is concerned, if the Fed wasn't artificially suppressing interest rates, home loans would be closer to 9% instead of 5%.  When rates go up, you will not see "regrowth." You will see prices come down even more than they are right now.
To get into a bit more detail as far as gold, let's not forget the $600 trillion in over-the-counter-derivatives lurking around the globe.  These investments (that some experts say are nothing more than debt bets) include things such as mortgage-backed securities, credit default swaps and interest rate swaps, to name a few.  This is mostly a huge unregulated market with little or no guarantees or standards and is not traded in any public market.  Some experts say the true size of the OTC derivative market is well over $1,000 trillion.  Whatever its size, it is a very big and dark pool of potential trouble.  Last week, Bob Moriarty at 321gold.com wrote an excellent article about where the world stands with this dark pool of investment mud.  Moriarty said, "The irresistible force is the $600 trillion in derivatives. The immovable object is the $60 trillion world economy. Basically a $60 trillion economy cannot support a $600 trillion bucket of used lottery tickets that everyone wants to pretend still have some value. They don't.  The only real question is just how much actual money is left and I suspect the answer is "near zero." That's the ticking time bomb. . . . Spain and Greece both used non-transparent derivatives to improve their financial books so they could enter the EU. The cooked books are now pretty obvious and Germans are objecting to having to work to the age of 67 so Greeks can retire at 50. Tick. Tick. Tick." (Click here to read the entire 321gold post.) Until the derivative problem is totally resolved, there is no way on God's green earth gold and silver are finished rising in price.  Sure, there will be corrections and sell-offs, but the pattern of higher highs and higher lows are firmly in place and will stay that way for several years to come.
Jim Willie at GoldenJackass.com recently gave 50 reasons why gold will move higher in the future.  I am sure Mr. Willie (who holds a Ph.D. in statistics) would agree that many of the reasons for gold's rise also apply to silver.  Now, please keep in mind that silver is the peyote popping, tequila swigging, crazy cousin of gold.  Meaning, it will be more volatile than the yellow metal, but both will go up, more or less, in tandem.   (Click here to read Mr. Willie's complete list of 50 reasons for gold's assent.)
There has also been talk recently about the U.S. going back on a gold standard.  Respected financial insiders such as Steve Forbes, James Rickards and Peter Schiff have all commented publically on why the U.S. dollar will one day be backed (in some way) by gold.  Some say the time line is 5 years or less.  In a post last week, Peter Schiff said, "As J.P. Morgan famously said to Congress in 1913, "gold is money and nothing else." Morgan meant that gold was unmatched in its effectiveness as a store of value and medium of exchange.  Given that his namesake bank started accepting physical gold bullion this past February as counterparty collateral, why should the trend of a widespread return to gold be considered only a remote possibility? On the contrary, it should be expected – if for no other reason than every other currency is fundamentally dismal." (Click here to read the complete Schiff post from Euro Pacific Precious Metals.)
Finally, U.S national debt and liabilities are another big factor in the price of gold and silver.  All told, the U.S. taxpayer is on the hook for at least $77 trillion. Last August, Boston University economics professor Laurence Kotlikoff said, "U.S. is bankrupt and we don't even know it." By his calculations, the U.S. debt and liabilities total $202 trillion.  (Click here to read the complete Kotlikoff Op-Ed post.) No matter what the debt and liability you think is correct, there is no way that bill gets paid in anything resembling the buying power of today's Federal Reserve Notes.
Let me finish by answering the question that is also the title of this article—not a chance!