Dreaded Double-Dip Is Here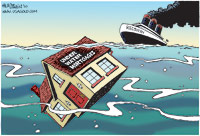 Greg Hunter's USAWatchdeog.com
I have been telling you the economy is not in any kind of real recovery for more than a year.  Sources I have been quoting have been proven right, and all the economic cheerleaders dead wrong.  Reuters reported yesterday, "Data showing a double-dip in home prices, pessimistic consumers and a slowdown in regional manufacturing raised concerns on Tuesday that the economy's soft patch could become protracted." (Click here to read the complete Reuters report.) "Could become protracted?" It is protracted, and now the data is suggesting the economy is getting ready for another cliff dive.
Let's concentrate on what has been a huge driver of the economy—housing.  A double-dip in housing could start a daisy chain of very bad news for the big banks exposed to derivatives and residential real estate.  According to the latest S&P/Case-Shiller home price report released yesterday, prices hit a new low in the first quarter–plunging 4.2% in just three months!  If you look back six months, prices are off nearly 8% according to Case/Shiller.  If you look on the chart on the first page of the Case/Shiller press release (click here), it clearly shows a double dip in housing.  That is exactly what was predicted nearly a year ago on this site.  One of the many people I quoted was renowned banking analyst Meredith Whitney who said last June, "Unequivocally, I see a double-dip in housing.  There's no doubt about it . . . prices are going down again." (Click here to read my original post from a year ago.) At the time, many people thought Ms. Whitney was being overly pessimistic.  In fact, her dire prediction has come true.  This is despite the more than $2 trillion spent in QE1 and QE2 (printing money out of thin air to buy government and private debt) by the Federal Reserve.  QE1 &QE2 helped fuel the stock market and artificially held mortgage interest rates at absurdly low levels and, yet, housing continues to crash.  Good call Ms. Whitney!
Another one of my favorite people to quote is economist John Williams of Shadowstats.com. He has been warning about a sinking economy for months and has been saying any good news is nothing more than "bottom bouncing." In his most recent report, Williams said, "Most major economic reports in April disappointed consensus expectations and either were flat or negative for the month—including real retail sales, industrial production, housing starts and durable goods orders.  Where first-quarter GDP growth slowed versus the fourth-quarter, the stage is set for the GDP to turn negative, again, sometime in the next two quarters, reflecting what would become an official double-dip recession." Housing has been an unqualified disaster with housing starts and new home sales off 75% from the 2005 peak.  Existing home sales are off nearly 30%, and of the homes that are sold, nearly 40% are foreclosures.  Four in 10 homes sold as distressed properties do not signal a healthy economy—just the opposite.
So, where are we headed?  Well, all this bad news is going to push the Fed to print more money to keep the banks from going under.  QE2 is supposed to end June 30, but the consensus of experts I quoted said it won't be long before there is QE3.  It will be either overt or covert, but it will be instituted.  A double-dip in housing could start a daisy chain of very bad news for the big banks exposed to derivatives and residential real estate.  (I wrote about this a few months back.  Click here for the complete original post.) Williams agrees, and in his latest report he said, "The Federal Reserve is a private corporation owned by commercial banks or banking interests.  The Fed's primary job is not to generate sustainable economic growth, nor to contain inflation, but rather to keep the banking system sound and healthy.  Accordingly QE1 and QE2 likely were targeted primarily at addressing systemic solvency issues, with the Fed using the weak economy as cover.  As the systemic solvency crisis continues and/or intensifies, an overt or covert QE3 likely will be in place by third-quarter 2011, under the cover of a deteriorating economy.   The broad inflation and economic outlooks discussed in Hyperinflation Special Report (2011) continue unabated."
Williams thinks there is going to be a "great collapse" between now and 2014.  Yes, the dollar and the entire financial system could go down in a giant hyper-inflationary ball of fire.  The buying power of the buck will be completely wiped out.  Please keep in mind, more than $12 trillion in liquid assets are held outside of the U.S.  A stampede out of the dollar could trigger a hyperinflationary event at any time.  At the very least, count on increasing inflation in everything but housing.