Will the U.S. Dollar Survive?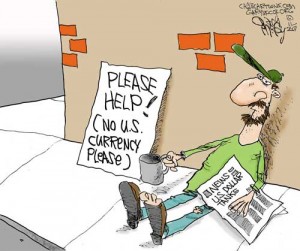 By Greg Hunter's USAWatchdog.com 
Alf Field has been called the "world's best gold analyst."  He is best known for his many spot-on predictions in the precious metals market.  Field has written extensively on debt, the dollar and has predicted the gold price per ounce will reach $10,000.  Before you laugh, the "paper" gold market was cited as a "Ponzi Scheme" at last week's Commodity Futures Trading Commission hearing on increased transparency for the market.  A recent story on "Zero Hedge" covering the CFTC hearing documents the big bomb dropped about the London Bullion Market Association (LBMA).  Here is a snippet from the article: "What was then astonishing is that the bullion bank apologist, Jeffery Christian, of CPM Group, who has always been staunchly against GATA (Gold Anti-Trust Action Committee) endorsed Adrian's comments as being "exactly right" and went on to confirm that the LBMA trades over 100 times the amount of gold it actually has to back the trades."  (Click here for the complete story) 
The implications of this are profound!  There is only one physical ounce of gold for every 100 ounces traded on paper!!   If buyers demanded delivery of their gold, the "paper" market would collapse; and the market price of physical gold would explode.  This could be one of the many reasons Field sees much higher gold prices in the future.  His other reasons gold will take a moon-shot all begin with the letter "D".  They are "Debt, Deficits, Dollar, Deflation, Demographics, Derivatives, Dwellings, Destruction and Deceit: This is a new one. The first casualty of war is truth. Lies, deceptions and misinformation abound in a war situation. Whether we like it or not, we are all involved in a war between government fiat currency and sound money. Governments will not willingly give up their right to create new fiat money. We must expect Governments to fight the introduction of sound money with whatever tools they have, which will include propaganda and misinformation." 
Field's last writing was April of 2009.  The reason he stopped writing says Field, "I recognize that if I continued writing these articles that I would find myself simply repeating much of what I have written before."  (Click here for Field's last article)  I interpret this to mean what is going to happen is set in stone, and it is just a matter of time before the dollar dies.
In an impromptu gold conference speech in 2005, Field predicted, "The U.S. Dollar is not going to exist . . . somewhere in the foreseeable future."  Please take the time to watch Field's amazing insight into the future in the video clip below: