WNW175-Financial War and Shooting War Intensifying-No Real Recovery, Obama Veto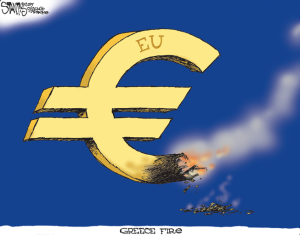 finBy Greg Hunter's USAWatchdog.com (1.30.15)
War is what I am going to concentrate on in this Weekly News Wrap-Up.  There is no doubt a massive financial war is going on right now.  If this keeps up, it will only lead to a shooting war and a very big one at that.  The EU wants to put another round of sanctions on Russia, and get this, Greece is signaling it will veto that action.  So, not only does the recently elected Greece leadership want debt forgiveness, it also looks like it is going to side with Russia over more sanctions.  Greece is a NATO country, and it's making noises that may close NATO military bases and withdraw from the alliance. All this is destabilizing the EU economy and the geopolitical situation there.  There is no doubt that part of the world is inching towards more war over Ukraine.  The cherry on top of the cake came from rarely heard former leader of Russia, Mikhail Gorbachev, who said, "Have they lost their minds?"  Talking about actions taken recently by the U.S., Gorbachev goes on to say, "The 'cold' war will "lead to a 'hot' war."  I am not advocating war, I am just telling you it looks like one is coming.
Want more war possibilities?  Look no further than the Middle East.  The hottest of hot spots is looking more and more like Israel.  Ever since Israel bombed Hezbollah positions in Syria near the Golan Heights, the shooting has been picking up on both sides. This is all part of the reason why the Prime Minister of Israel, Benjamin Netanyahu, is going to talk to Congress about Iran, its nuclear program and more sanctions.  The President is furious over this, and I think it's because there may be enough votes on both sides of the isle to override a veto.  Congress will no doubt pass legislation to strengthen sanctions against Iran if talks fail to curtail Iran's nuclear program.  Meanwhile, Iran has vowed to attack Israel because of the airstrike that killed an Iranian General and a son of a Hezbollah leader in Syria.  It is reported Iran has said it will attack Israel from the West Bank.  Iran also reportedly told the U.S. State Department it was going to attack Israel.  This is a new wrinkle.  Iran did not say it was going to have Hezbollah or Hamas attack Israel.  It stated Iran was going to attack Israel.  This is a whole new level of rhetoric, and it is definitely a dangerous escalation of war talk.  If Iran did directly attack Israel, what would a counterattack be for Israel?  Can you see how this could spiral out of control?  This is "war and rumors of war" talk, and I don't think anyone is bluffing.
President Obama has made a record high amount of veto threats to the new Republican Congress.  There are nine Obama veto threats in all.  I told you that he will likely veto any additional sanctions in Iran, but his first veto is probably be going to be the Keystone XL Pipeline legislation that just passed in the Senate.  Now, the House and the Senate have to get the language sorted out, and then it will be sent to the President's desk.  Former Democratic Majority Leader Harry Reid used to stop all bills in the Senate.  Now, the Republicans hold the Senate, and a flurry of bills will be passing through to President Obama's desk.  Will he now become the President of "No" like the Republicans were branded?  Nine Democrats voted for the Keystone bill with the Republicans in the Senate.  This is the trend I told you was coming.  We will see if Congress can override a veto if one comes.
The Federal Reserve said it will remain "patient" on raising interest rates.  We keep hearing about the good economy, and signs abound that the economy is not good, at least for Main Street.  I just want to make my point with recent bad news on housing. According to the Commerce Department, home ownership just hit fresh 20 year lows in the last quarter of 2014.  How can there be a so-called "economic recovery" when homeownership is hitting fresh lows?
Finally, CNN is pushing for a North American Union in an opinion piece posted on CNN.com.  Remember when people said this was crazy conspiracy theory talk a few years ago?  I guess it's not so crazy.  The writers say we don't need a Constitution, and to me, that means we don't need any rights such as in the Constitutional Amendments.  Simply outrageous, and CNN should be ashamed to be used as a New World Order propaganda tool.
Join Greg Hunter as he analyzes these stories and more in the Weekly News Wrap-Up.