Afghanistan, Add It To The Tab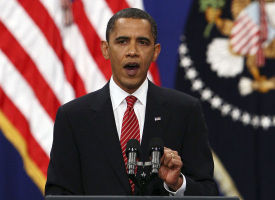 By Greg Hunter's USAWatchdog.com
I watched the President last night address the nation on why he needed to send 30 thousand more troops to Afghanistan.  He said it would cost an additional $30 billion for this escalation.  That works out to 1 million bucks per soldier.  There are 68 thousand troops already there.  That means there will be 98 thousand troops on the ground in Afghanistan in 2010.  Using the President's math, 98 thousand troops will cost $98 billion dollars a year!
I do not envy the President.  Sending people to battle is not easy.  I think the President has genuine concerns about the destabilization of Afghanistan.  It's a place Mr. Obama called the "epicenter of the violent extremism practiced by Al Qaeda."  Afghanistan is also the home of the Taliban, and they too are trying to overthrow the government.  I think the President's big fear is across the border in Pakistan.  If Pakistani nukes fall into the hands of terrorists, America would certainly be a top target.  In September, I named Pakistan as one of "The 2 Biggest Geopolitical Wild Cards in the World."     
I am not here to make a case for or against the President's actions.  No one is questioning there is a real problem for America in that part of the world.  What I would like to know is why there is no debate on how the U.S. is going to pay for this?  Afghanistan will become a $98 billion per year expenditure!   I have said in the past, the only people suffering in these wars are soldiers and their families.  If this is vitally important to U.S. security and interests, then why are we not asking Americans to pay for this?  CNN reported that Speaker of the House, Nancy Pelosi, soundly dismissed any talk of a war tax to pay for the Afghanistan operation.  So I ask, how are we going to pay for this?
The answer is simple.  I say, "Add it to the tab!"  We will take care of this by adding to the debt ceiling and printing more money.  You think I am kidding?  Back in September of this year, the President asked Congress to raise the debt ceiling to $13 trillion dollars from $12.1 trillion.  Presto! New money, just like that!!  (Click here for the complete story)   
People are living a dream if they think this will not cost them because the tab from all the bailouts of Fannie, Freddie, GM, Chrysler, AIG, the banks, stimulus packages and so on is getting pretty heavy.  Expert investor Porter Stansberry summed it up in an article last week titled "The Bankruptcy of the United States is Now Certain."  His opening paragraph was a real eye opener.  Stansberry wrote, "It's one of those numbers that's so unbelievable you have to actually think about it for a while… Within the next 12 months, the U.S. Treasury will have to refinance $2 trillion in short-term debt. And that's not counting any additional deficit spending, which is estimated to be around $1.5 trillion. Put the two numbers together. Then ask yourself, how in the world can the Treasury borrow $3.5 trillion in only one year? That's an amount equal to nearly 30% of our entire GDP. And we're the world's biggest economy. Where will the money come from?"  (Click here for the complete post)   
Yes, where will the money come from?  That's $3.5 trillion ($3,500 billion) to finance in a single year!  That means the government will have to borrow (or print) $67 billion each and every week!  That's $268 billion a month!  The entire budget deficit in the last year of the Bush Administration was only $482 billion!   It looks like we will just keep on "adding it to the tab"… until we can't.  Vice President Cheney once said, "Deficits don't matter."  He's right!  Deficits do not matter, right up to the moment they cannot be financed any more, and then all hell breaks loose!