Comey the Leaker, Fed Against Trump, Crop Update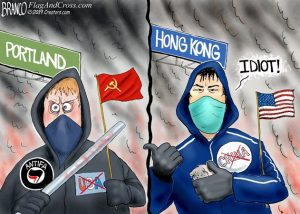 By Greg Hunter's USAWatchdog.com (8.30.19 WNW 398) 
The Office of Inspector General report is out on fired FBI Director James Comey about his leaking to get his friend Robert Mueller installed as Special Counsel.  Let me sum up the 85 page report:  Comey is guilty of criminal leaks, and he will not be prosecuted.  You lost Jeffery Epstein, and America thanks you William Barr for letting another one go!! 
Former Fed Chief Bill Dudley wrote in an Op-Ed piece for Bloomberg (I mistakenly said NYT) that the Fed should not help Donald Trump with his China trade war or with his re-election in 2020.  I have said before the Fed is out to get Donald Trump, and now it is in writing from one of the Fed's top bankers. 
The crops can be described as very uneven as I travel across the Midwest.  Some crops are great, some are mediocre, some are poor and many fields did not get planted because of too much rain or too much flooding.  The USDA is predicting lower yields and higher prices, and you should believe them.  The only two questions are how much lower and how much higher? 
Join Greg Hunter as he talks about these stories and more in the Weekly News Wrap-Up. 
(To Donate to USAWatchdog.com Click Here) (Up-Date: You Tube first Demonetized this video, then, gave it back, then took it away again.  What the what????)
Federal Reserve expert Wayne Jett will be the guest for the Early Sunday Release.