Criminals of DOJ & FBI, MSM Ignores Real News, Yield Curve Flattens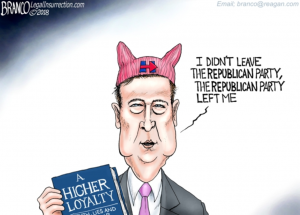 By Greg Hunter's USAWatchdog.com (WNW 331 4.20.18)
Eleven members of the House GOP have given a criminal referral for the top people in the FBI, DOJ and State Department in the Obama Administration. James Comey, Hillary Clinton, Loretta Lynch and Andrew McCabe were all accused of a variety of crimes, including obstruction of justice to perjury.  Hillary Clinton is being accused of getting "contributions and donations by foreign nationals."  This has never happened in U.S. history to have so many top former U.S. officials accused of this many crimes.
Meanwhile, former renowned Federal prosecutor Joe diGenova continues to accuse Democrats of "framing" the Trump Administration with "fake evidence" in a grand conspiracy to remove a duly elected President. DiGenova also accuses President Obama to be part of the conspiracy.  The mainstream media (MSM) has, by and large, refused to cover the criminal referral of multiple high ranking Obama Administration officials and treats the fired FBI director as some sort of hero on his ongoing book tour.
Gregory Mannarino of TradersChoice.net is out with a warning about the flattening yield curve. Mannarino says a flattening yield curve always signals a coming recession, which will spell trouble for the markets.
Join Greg Hunter as he talks about these stories and more in the Weekly News Wrap-Up.
(Correction:   I meant to say "Obama had a dinner party at the White House December of 2016"– NOT Trump.  also,  Correction:   I meant to say .19 basis points instead of .10.)
(To Donate to USAWatchdog.com Click Here)
After the Wrap-Up: 
Global financial advisor Catherine Austin Fitts of Solari.com will be the guest for the "Early Sunday Release." For the first time, Fitts says she is "worried" about the U.S dollar and the U.S. Treasury market.  Find out why in this powerful interview.