CV19 Vax & Economy Narratives Collapse in 2022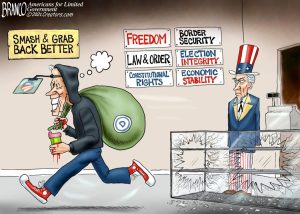 By Greg Hunter's USAWatchdog.com (WNW 510 12.31.21)
The CV19 vax narrative continues to crumble, and it will be breaking apart at a much higher rate in 2022. The big unreported story of the week came from the mouth of Green Bay Packers Quarterback Aaron Rodgers who took Ivermectin, among other treatments, a few weeks ago to beat a covid infection. Rodgers spilled the beans on the "fully vaxed" NFL by saying "behind the scenes, there are many teams who are recommending the same treatments that I got for their players." Yes, the same as in the Nobel Prize winning drug Ivermectin that has been scientifically shown to be very effective in curing CV19. I guess even the NFL is waking up to the facts that the CV19 injections just don't work, and this is yet another example of the CV19 narrative crumbling going into 2022.
It is clear that the economy has been propped up since the 2008-2009 financial meltdown. The Fed wants to stop the easy money policies and "taper" the $120 billion it is pumping into the repo market each and every month. Is the patient well? Can it survive the Fed pulling the plug? The answer is a resounding NO on both counts, and all we need is a little recession to prove it. Inflation is now out of control, and the Fed cannot afford to tame it, especially if a recession comes. People like Elon Musk and many others are saying a downturn is coming in 2022. With the amount of astronomical debt and derivatives out there now, even a small correction could cause a full-on meltdown. Buckle up people, the Fed is flying blind.
The one other story that gets honorable mention for 2022 is the election fraud story and fixing the voting system. The mainstream media and Democrat globalists wanted this narrative to vanish in early 2021, but forget it. There are plenty of people still fighting to stop voter fraud, and the issue will boil over in 2022 just in time for the midterms. I am not saying the Democrats won't cheat. With Biden's record low poll numbers, they are going to be forced to cheat. I am saying it is going to be much harder because there will be no lockdowns and massive ballots printed and sent to everyone like what happened in 2020. This is one of the positive outcomes of the vax narrative imploding in 2022.
Join Greg Hunter of USAWatchdog.com as he talks about these stories and more in the Weekly News Wrap-Up 12.31.21.
(To Donate to USAWatchdog.com Click Here)
After the Wrap-Up:
Greg Hunter will be taking a few more days off but will be back with a full schedule of programming by the end of next week. Happy New Year!!
This segment is sponsored by Discount Gold and Silver Trading. Ask for Melody Cedarstrom, the owner, at 1-800-375-4188.