Dem Desperation, Were They Vaxed, Biden Inflation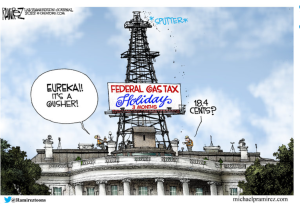 By Greg Hunter's USAWatchdog.com (WNW 535 6.24.22)
The economy is so bad, and inflation is so high, that the Democrat National Committee (DNC) is worrying more about retaining Democrats than cultivation of new voters for the mid-terms this fall.  A new poll shows a majority of Democrats say Biden is responsible for the inflation we are seeing.   There are record high gasoline prices, rising food prices and just about everything else costing more—much more.  Not a good time to ride the Biden coat tails.
So many young people are dying unexpectedly that the government has a new name for this phenomenon.  It's called "Sudden Adult Death Syndrome."  Someone young dies with no apparent cause of death and everyone is baffled.  Of course, this strange phenomenon after millions were coerced or psyched into taking a so-called CV19 vaccine.  Maybe we should be asking, "Were they vaxed?"
Gasoline is near record high, and inflation is running at levels not seen in 40 years.  Has it peaked or is there more pain to come?  Looks like it has leveled off for now, but many think the economy will tank and more inflation is on the way.  They call this stagflation, and it's not going away anytime soon.
Join Greg Hunter of USAWatchdog.com as he talks about these stories and more in the Weekly News Wrap-Up for 6.24.22.
(To Donate to USAWatchdog.com Click Here)
After the Wrap-Up:
Renowned radio legend and filmmaker Steve Quayle will join us for the Saturday Night  Post.  Quayle has astounding proof our history in North America is not what you were taught in school.