Abortion at Center of Evil Control Over USA – Bo Polny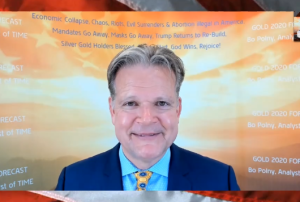 By Greg Hunter's USAWatchdog.com (Saturday Night Post)
Biblical cycle timing expert, geopolitical and financial analyst Bo Polny has made many spot-on predictions, but none as critical to America's future as the overturning of the historic abortion Supreme Court case of Roe v. Wade.  Polny has made a series of predictions on USAWatchdog.com since 2020 concerning the overturning of the landmark case as seen here in this 2 minute video that proves it.  Now, Polny is back to explain what it all means for the future of America.  Polny says, "Probably the biggest thing in the history of this world that we are witnessing right now is Roe v. Wade.  This is Biblical, historic and the most powerful thing on this planet right now.  Mark my words, and I have not waivered, Roe v. Wade is overturned. . . . You are going to watch these things unfold this year. . . . this is all about abortion because abortion is what got us here.  Roe v. Wade is what got us here today with this insanity upon us. . . . This is what ancient Israel was doing, they were killing their children.  We are doing the exact same thing.  Evil tried to take control of the United States. . . .  We are founded under God.  A third of the Constitution is out of the Bible.  We were founded under God—period.  So, what have they tried to do this entire time?  Dismantle the Constitution.  . . . They can't proceed until they dismantle the Constitution, and it's happening right before your eyes. . . . When the Supreme Court ruled in favor of Roe v. Wade in 1973 (The case made it to the High Court in late 1971),  God turned his back on the United States.  What has happened in the last 50 years?  The rise of this satanic system.  If you want to reference this Biblically, it's the rise of the Harlot.  The Harlot has been able to control everything. . . . They are in complete control right now.  How did this all happen?  Because of abortion—because of abortion.  We allowed this to happen, and God turned his back on the United States and, thus, we got what we got."
Polny is also predicting financial fireworks this year as well, and it's not going to go well for the evil ones attacking "We the People."  Polny explains, "Roe v. Wade has confirmed what comes next.  What comes next is the greatest wealth transfer in human history is about to happen.  For these people who have done what they have done, Proverbs states, 'The wealth of the sinner is stored up for the righteous.'  So, what's about to happen is the greatest financial event in human history."
Polny says this is the year everything breaks in the financial world.  Polny says, "The bonds will be broken.  The bonds will break.  That will break the financial system.  That will break the mortgages.  That will break the housing market.  All of this is going to break, break, break and mark my words, it's all going to break this year."
Polny has also predicted that Trump would be put back in office, although he is not sure how God will do this.
Join Greg Hunter of USAWatchdog.com as he goes One-on-One with Biblical cycle expert and financial analyst Bo Polny, founder of Gold2020Forecast.com for 5.14.22.  (There is much more in the 1 hour and 4 minute interview.)
(To Donate to USAWatchdog.com Click Here)
After the Interview: 
Watch Bo Polny make a series of predictions in the last two years on USAWatchdog.com that led to the overturning of Roe v. Wade.  The video is 2 minutes long below:
You can find free information on Gold2020Forecast.com.
If you are looking to buy physical gold and silver coins, check out our sponsor Discount Gold and Silver Trading.  Ask for Melody Cedarstrom, the owner, at 1-800-375-4188.