Dem Marxism Exposed, Trump Coup Ending, Fed Folds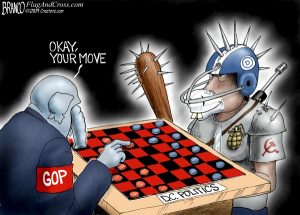 By Greg Hunter's USAWatchdog.com (WNW 376 3.22.19)
The new blood that was elected in the Democrat party in 2018 are as far Left as you can get. Freshmen Congress women Omar, Ocasio-Cortez and Tlaib have Marxist/communist ideas and want that repressive lifestyle for us all. Many say they have turned the Democrat party Left, but I say it was always Left. These people have just exposed Democrats for what they really are–freedom and American hating Marxists. Now, we know what we are really voting for when these folks campaign in the 2020 election.
The failed coup on President Trump is winding down and being exposed for what it really is. The Obama Administration DOJ and FBI made up a story of Russian collusion to try and blow Trump out of office. Team Trump is about to hit back but has had plenty to do in cleaning up the corruption in the swamp before he strikes.
The Federal Reserve has officially thrown in the towel on raising interest rates anymore in 2019. Fed Head Jay Powell made the announcement this week, but why now? Maybe the economy is not nearly as strong as you have been told.
Join Greg Hunter as he gives his take on the week's top stories in the Weekly News Wrap-Up.
(To Donate to USAWatchdog.com Click Here)
After the Wrap-Up: 
Best-selling author James Rickards will be the guest for the Early Sunday Release. He will tell us why the Fed is trapped, why gold will shine and why stocks could be in for a rough ride down in the not-so-distant future. He will also talk about his new upcoming book called "Aftermath: Seven Secrets of Wealth Preservation in the Coming Chaos."