Could a Dollar Crash Be Coming Soon?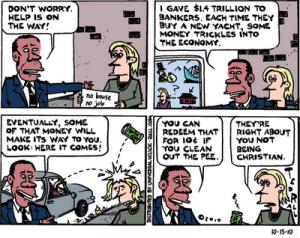 By Greg Hunter's USAWatchdog.com
It's official.  The economy is in trouble.  The Fed seems to be hitting the panic button and is sending numerous clear signals that it will print more money to push up the economy.  The Fed has already printed $1.7 trillion to buy mortgage-backed securities in the past year or so.  New money printing (Quantitative Easing) will be done to buy U.S. Treasuries, or America's own debt.   This, in turn, will supposedly reduce interest rates even further into record low territory and, thus, spur economic activity.  The clearest signal of more money printing came last Friday from the Fed Chief himself, "There would appear — all else being equal — to be a case for further action," according to the Associated Press. (Click here for the complete AP story.)
Other Fed officials are, also, in favor of pouring gas on the smoldering economic fire that is the U.S. economy.  According to a Reuters story over the weekend, at least two Fed Presidents are giving a green light to print more greenbacks.  Boston Fed President Eric Rosengren and Chicago Fed President Charles Evans spoke at the same event in Massachusetts, and both gave their reasons why aggressive measures by the central bank were needed now.  Fed President Rosengren was especially dire in his plea for QE,      "Insuring against the risk of deflation may be much cheaper than waiting until it has occurred and then trying to address it.  A gradual response may not be as effective as a more active response to arrest deflationary pressures before they become embedded in thinking that can affect household and business spending," Rosengren said.  (Click here for the complete Reuters story.)
"A more active response"? Are you getting the feeling the Fed is freaked out by the stumbling economy?  So, why is the Fed in panic mode?  Could it be stubbornly high unemployment, a stock market hit with week after week of investor withdrawals, declining retail sales, declining residential and commercial real estate prices, and the foreclosure fraud story that has blown up causing trillions of dollars in mortgage backed securities to be exposed for the worthless rip-off they really are?  My vote is for all of the above.
So, if the Fed is going to open the money printing flood gates, I guess we can just buy stocks and let inflation make us all rich—right?  Wrong, according to economist John Williams at shadowstats.com.  In his latest report, out last Friday, Williams warned, "Buying U.S. stocks because the Fed says it will proactively debase the U.S. dollar is like sitting on the beach in order to get a great view of an incoming tsunami.  Any pleasure so derived should be short-lived, when the terror of underlying reality quickly takes hold." So, I know what you are thinking right about now—when?  I wish I knew, but when the market tanks, don't expect warning sirens to sound and church bells to ring.  Williams goes on to predict, "Given the current systemic distortions and extreme irrationality in the equity markets, a severe and violent sell-off in stocks would not be a shock, and it could come with minimal, if any, warning."
And, if the economy is in a downward spiral as the Fed claims, then what do you think is happening to tax receipts?  Plunge is the word that comes to mind for me.  And if the Fed is going to print lots of new money out of the thin air, what do you think that will do for the buying power of the U.S. dollar?  There is that word again—plunge!  Williams puts the dollar picture into better focus when he says, "There is particular risk of recent dollar selling — which has been closing in on historic lows — turning into an outright dollar-dumping panic, which not only would roil the domestic U.S. markets, but also would set the stage for a rapid acceleration of domestic consumer inflation.  Irrespective of any near-term market volatility, gold and silver, as well as the stronger currencies, remain the best long-term liquid hedges against loss in purchasing power of the U.S. dollar."
The last question to answer is how much new money will the Fed create?  Former Bush economic advisor Marc Sumerlin gave a clue less than two weeks ago on CNBC.  He said, "U.S. households have $70 trillion in assets," Sumerlin explained during a live interview. "And the Fed essentially needs to buy enough Treasurys and mortgages that you can get a bid on all those other assets. And when you have leakage in the international system it takes a pretty big amount to be successful. To me, it starts to get interesting at six to seven trillion dollars." (Click here for the complete CNBC story.)
"Six to seven trillion dollars!" Yikes!  Talk about letting a big fat cat out of the bag—meow.  Do you understand how bad the Fed thinks the economy has gotten?   I have said this many times on this site, "the one sure thing you can count on is big inflation." The Fed has flat out said (many times now) it wants more inflation.  It is determined to give us all just that—and maybe a whole lot more.