Fake News is Real, Trump Not Criminal Target, Trade War or Negotiation?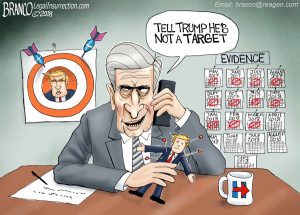 By Greg Hunter's USAWatchdog.com (WNW 329 4.6.18)
A new Poll uncovers that 77% of Americans think the legacy media, or mainstream media (MSM) like CNN and the New York Times (among others), regularly reports news that is not true. Sometimes the stories are just plain fake news, and other times the MSM just lies by omission and covers Stormy Daniels and omits that the country is "missing" $21 trillion.
Special Prosecutor Robert Mueller came out this week and said that President Trump is not the target of a criminal investigation. This is the exact same thing former FBI Director James Comey told President Trump before he was fired.  Famed legal scholar Alan Dershowitz says the Mueller team has been on the case for more than a year and "there is nothing there" and that Mueller is "inventing a crime."
Trump slaps China with $50 billion in tariffs, and China slaps back with $50 billion of their own tariffs on soybeans, whiskey, cars, aircraft and chemicals. Trump is considering slapping back another $100 billion in additional tariffs against China.  Is this going to turn into a full blown trade war or is this just one very high stakes negotiation tactic by the man who wrote the book called "The Art of the Deal."  The stock market is very nervous about the possible trade war.
Join Greg Hunter as he talks about these stories and more in the Weekly News Wrap-Up.
(To Donate to USAWatchdog.com Click Here)
After the Interview:   
Renowned trend researcher Gerald Celente, Publisher of The Trends Journal  will be the guest for the "Early Sunday Release."