FBI Banana Republic, War Coming, Dollar Crashing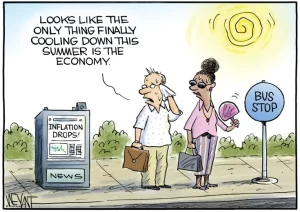 By Greg Hunter's USAWatchdog.com (WNW 590 7.14.23)
A whistleblower exposing treasonous bribes against President Joe Biden was arrested and charged with 8 criminal counts.  This is what banana republics do at the end of the line when they want to stay in power after extreme corruption is exposed.  Meanwhile, the Head of the FBI Christopher Wray testified on Capitol Hill and was grilled by Congress on a variety of issues.  It appears he was caught in lies concerning censoring Americans through social media, and saying there was not FBI undercover presence at J6 in Washington D.C.  The crimes are now out in the open, and the lies to try to cover them up are too.  The FBI is now helping foster a banana republic government.
The U.S. is wanting to send cluster bombs to Ukraine.  It is a war crime to use them, but the Ukrainians are losing badly to the Russians.  More than 26,000 soldiers died in the recent so-called counter-offensive.  It was an unmitigated disaster and a total cremation of NATO by Russia.  The Russians are wanting a peaceful end to the conflict while the Biden Administration is calling up troops and sending F-16's capable of delivering tactical nukes.  Biden and company want war at all costs, and it looks like we are all going to get it.
The U.S. dollar had a very bad week.  It lost 4.5% in six days.  There is, once again, talk of cutting interest rates as inflation has cooled, but with a crashing dollar, can that happen?  What would happen to inflation if the U.S. dollar sinks further spurred by cutting interest rates?
There is much more in the 45-minute newscast.
Join Greg Hunter of USAWatchdog.com as he talks about these stories and more in the Weekly News Wrap-Up for 7.14.23.
(To Donate to USAWatchdog.com Click Here)
(Tech Note: If you do not see the video, know it is there. Unplug your modem and plug it back in after 30 sec.  This will clear codes that may be blocking you from seeing it.  In addition, try different browsers.  Also, turn off all ad blockers if you have them. All the above is a way Big Tech tries to censor people like USAWatchdog.com.)
After the Interview:
Biotech analyst Karen Kingston will be the guest for the Saturday Night Post as she updates the ever-growing disaster of the CV19 bioweapon vax.