FISA Abuse Report Coming Soon, MSM Propaganda Psyop, Economic Update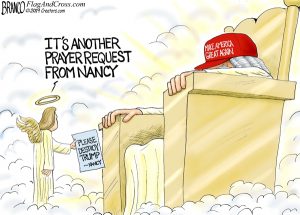 By Greg Hunter's USAWatchdog.com (WNW 407 10.25.19)
DOJ Inspector General (IG) Michael Horowitz sent a letter to Congress telling them the long awaited IG report he's been working on is nearing completion. Looks like it could be released in November with what he calls "few redactions." Some are reporting the report is extensive and covers much more than fraud on the FISA court with a phony dossier paid for by Hillary Clinton and the DNC to get warrants to spy on everything Trump.
The MSM is running a full-fledged psyop on "we the people" and throwing what little journalism they provide out the window in an effort to team up with the Deep State and the Democrats to remove President Trump from office with made up phone charges, polls and hit pieces from anonymous sources.
The Federal Reserve seems to be in panic mode supplying cash to banks to "keep the banking system stable." The Fed pumped out $134 billion in one day this week. Why? What is wrong in what is supposed to be a great economy?
Join Greg Hunter of USAWatchdog.com as he talks about these stories and more in the Weekly News Wrap-Up.
(To Donate to USAWatchdog.com Click Here)  (Update: At approx. 8:40 am YouTube emailed me and said, "Great news! After manually reviewing your video, we've determined that it is suitable for all advertisers." So, after tens of thousands of views with little or no advertising it is now OK to run adds. Do you see how YouTube screws people out of cash for no reason??? Thanks YouTube for your incompetence or even malicious hateful punishment of USAW. Either way, you guys ripped me off, but that's not going to stop me from posting the truth.  Still enjoy!!!!)
After the Wrap-Up: 
Money manager Michael Pento will be the guest for the Early Sunday Release. Big red warning flags about the world economy are popping up, and he will tell us all what he sees coming.