Hyperinflation Will Collapse Biden Administration – Clif High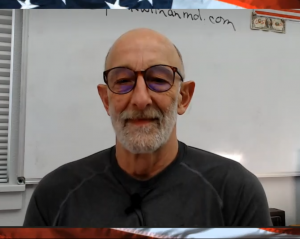 By Greg Hunter's USAWatchdog.com 
Clif High is an Internet data mining expert who uses something he calls "Predictive Linguistics," which sorts through billions of bits of information on the Internet to predict future trends and events.  He has many well-documented correct predictions.  High predicted a month ago, "The Biden Administration would be in full collapse by this fall."  The CV19 Vax door knocking campaign from the Biden camp, to harass people into getting the jab, is simply a prelude to the coming collapse.  High explains, "It's a sign of desperation, and it's a sign of weakness. . . . What they do not realize is the people doing this work are going to be assaulted by the people they are going to be talking to verbally and sometimes physically.  It won't go well for the workers.  It's going to cause lots and lots and lots of videos and audio recordings to come into existence that the Biden Administration will desperately not want to have happened.  At some point, I think it will be the PR aspect that will get them to cancel it. . . . People will take the opportunity to 'red pill' these workers and record it. . . . It will be like my enemy is sending his troops to me.  Let me see if I can convert them to my purpose."
How will the collapse of the Biden Administration take place?  High says, "This is an economic issue. . . . We exist on the petro-dollar empire, and that empire is dying very rapidly.  We are in the very final phases of that death.  In that final phase, we reach hyperinflation.  We are at the point that hyperinflation has broken loose.  It's reported at 5.4%, but it's really hyper.  It really is three times that or four times that.  Energy, since Biden took over, is up 40%. . . . We are now reaching a point of the inflation to run parallel with the debt that is going to reach an extreme.  This extreme, by my calculations, should impact the Biden Administration in some form of a catastrophic crisis around the last half of September. . . . Fundamentally, it will be the inability to pay for things . . . . It will be a situation where the hyperinflation has so outpaced normal expectation . . . that all of the government contracts in the computers, which have limits and constraints, will have blown beyond those limits and constraints.  The government will not be able to write checks because the computers will refuse to print them.  This is a crude way of explaining it. . . .  There are thousands of constraints built into software configured at a time when there was a more rational view of inflation."
High goes on to say, "We are at that point where empire is collapsing.  The empire is collapsing because the money is no good."
High also talks about the breakdown of society because so many high-skilled people will die from the jabs.  High says the "lockdown plan that would have killed many has failed," because of President Trump.
High also contends, "The power elite are committed . . . .They can't back down now, and they must continue with the idea of trying to kill as many of us as possible, especially now that we have had this great awakening and they have broken the veil of secrecy so to speak.  This is why the door to door thing. . . . Inoculation is not a good thing, and the elite are trying to inoculate 95% of humanity out of existence.  Going back to my data to 2003 and onward, there has always been this area of data that said 1.24 billion people would be dying prematurely.  We are at the point right now that a little more than 2 billion people have been inoculated, injected with these mixtures, and if we take the numbers out of various institutes out of London . . . they estimate between 60% and 70% this coming winter will fall ill, and the vast majority of those people will die. . . . This is very close to what my data has predicted since 2003–1.24 billion people dying.  So, imagine what that is going to do to our social order. . . . At that level, our society will be hovering around breakdown.  We won't have truck drivers, doctors, dentists, and a lot of the healthcare workers inoculated themselves.  We won't have airline pilots, and we may not have pilots for large ships to get them in and out of port.  That's a highly skilled job, and it takes years to train someone."
High also has data on the massive amounts of bodies that will need to be buried or cremated because of the deaths from the CV19 jabs.  It is gruesome.
High also talks about bitcoin, gold, silver, the stock market and how a new financial system will emerge.  Spoiler alert:  gold, silver and Bitcoin are not going lower in price, according to Clif High—just the opposite.  High also talks about data on election fraud, the CCP attack on Nov 3, 2020, and how it will all be coming out into the open.  Will Donald Trump get back into office?  High has data on that too and will explain it.  High says the elite will become prisoners of "We the People."  The great awakening of "We the People" will leave the elite no place to hide and no place to run.
Join Greg Hunter as he goes One-on-One with Internet data mining expert Clif High.
(Program Note:  What is written here is a fraction of what is in this 70 min. interview.  I will not be doing a Weekly News Wrap-Up on Friday 7/16/21.  I did this a month ago when Clif High was on, and this interview is better than that one.  Please take time to carefully listen as High lays out what to expect from August to the end of the year.)
(To Donate to USAWatchdog.com Click Here)
Clif High says he no longer sells his Internet data mining reports, but he does commentary about his data mining research and gives free analysis on his Bitchute channel.
This segment is sponsored by Discount Gold and Silver Trading. Ask for Melody Cedarstrom, the owner, at 1-800-375-4188.