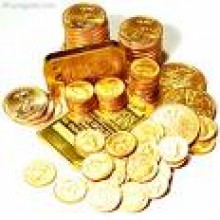 By Greg Hunter's USAWatchdog.com   
With gold hitting all time nominal highs this week, the recurring question is "Is gold in a bubble?"  The yellow metal has been flirting with the $1,300 an ounce mark, and some folks are getting a little worried it has gone too far too fast.  If anything, gold has not gone far or fast enough if you compare it to the U.S. debt and future commitments.  According to Boston University economics professor Laurence Kotlikoff, the U.S. is "bankrupt."  Kotlikoff says, "Congress has engaged in Enron accounting," and the real deficit is "$202 trillion"—15 times worse than official government projections.  We will never be able to pay this amount in real money!  $202 trillion is more than three times the entire world GDP!!  (Click here for the complete Kotlikoff story.) 
The main reason gold has been on the rise is the Federal Reserve setting the stage for another $1 trillion dollars of "Quantitative Easing" or money printing.  Here's how expert trader Dan Norcini summed up the Fed actions this week.  He said on JSMineset.com, "If the FED wanted to give the Dollar the kiss of death with yesterday's FOMC release, they certainly managed to accomplish their task. It continued its descent which began as soon as the statement hit the wires yesterday and has not looked back since. . . .There were very few individual commodities that were lower today as billions more were jammed into hard assets in an attempt to shield wealth from the depredations of a currency that has broken through support levels in a manner that is frightening for its intensity." (Click here to see the complete Norcini post.)   
Despite Fed actions that will clearly devalue the dollar, billionaire investor George Soros keeps telling the public that "nothing is safe" and gold is the "ultimate bubble."  (Click here to see the most recent Soros interview on gold.)  I am puzzled why Soros says negative things about the precious metal when the biggest holding in his $25 billion hedge fund is GOLD!
Jim Willie from the "Hat Trick" newsletter said this week, "Calls of a gold bubble are shallow moronic pontifications, since the sanctioned asset bubble is the mammoth USTreasury variety. It is the last bubble before systemic failure. . . . The Gold bull will continue as long as the cost of money is negative. Investors flee the conventional paper vehicles like stocks, bonds, and housing since the system is failing and paper money in which values are denominated is fast becoming meaningless. The food prices are the big alarm bell in addition to the Gold price. Both are canaries in the coal mine. The canary is dead or dying."  (Click here for the complete Jim Willie post.)
 Famed gold investor Jim Sinclair has been calling for gold to hit "$1,650 per ounce on or before January 14, 2011" for several years.  Now others are making similar calls such as Deutsche Bank.  In a recent report titled "Why the Gold Price Rally Will Continue," the mega bank said it would not consider gold to be in a bubble until it reached "$2,000" per ounce. (Click here to find the Deutsche Bank report on JSMineset.com.) 
According to John Williams at shadowstats.com, in order for gold to equal its 1980 true inflation adjusted $850 price, the yellow metal would have to sell for more than $7,000 per ounce.  But don't expect gold to go up in a straight line.  Governments, manipulators on Wall Street and market forces can knock gold down at anytime.  Price fluctuations can and will be volatile according to gold experts like Sinclair, but the overall trend is decidedly up.
A very good friend of mine recently wrote me and said, "If there is total collapse of the economy and ultimately – God forbid – the nation, then I doubt that Gold will be worth anything. Bullets and canned food will. They will be very valuable. Bullets will protect you from those who would steal your canned food.  Simple, but sadly – true."
To that I wrote back and said, "To say gold will not be worth anything is to ignore a 5,000 year track record of gold being a store of value and MONEY. Why do you think all central banks hold gold? Yes, ALL hold gold and are buying more. . . The people who have protected their wealth with SOME gold and silver will get through it a lot better than the people who don't. Good luck with holding only beanie weenies and bullets."
Don't take my word that gold is NOT in a bubble.  Even former Fed Chairman Alan Greenspan warned recently that "fiat money has no place to go but gold." (Click here for the complete story from the NY Sun.) The value of gold should not be in question.  The U.S. dollar is what is overvalued, and the rising price of gold is simply sounding an alarm that the world's reserve currency is in deep trouble.