Mueller Disaster, Spending Deal, Global Economy Fragile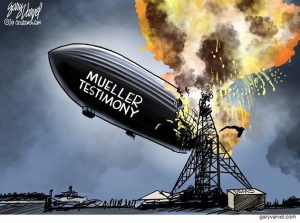 By Greg Hunter's USAWatchdog.com (WNW 393 7.26.19)
Special Prosecutor Robert Mueller, who tried to uncover dirt on President Trump for the past two years, finally testified in front of Congress about his recently completed report. Democrats pushed for this, but it exploded in their faces as Mueller stumbled, bumbled and mumbled through his testimony. Many are saying his depreciated mental state shows Mueller was the lead prosecutor in name only. The testimony was full of contradictions and gaping holes in prosecutorial logic, but in the end, it still totally cleared President Trump of conspiracy and obstruction. The Dem dream of impeachment has now been totally trashed and discredited by Mueller.
The big story that was overshadowed by the Mueller fiasco is the budget deal to keep government open and spending until after the 2020 Presidential Election. This was another big win for Trump, but few are talking about it.
You keep hearing of how strong the economy is, but there are major problems with debt and money around the world. Both China and the EU have major economic problems. Some very big banks in all countries are in deep trouble. Is the global economy so weak that a huge problem overseas could tank the U.S. economy? You bet, and everybody knows this.
Join Greg Hunter as he talks about these stories and more in the Weekly News Wrap-Up.
(To Donate to USAWatchdog.com Click Here)
After the Interview:
Former CIA Officer turned whistleblower Kevin Shipp will talk about the big stories coming down the pipe between now and next year. One of the biggest is going to be the fallout from the ongoing Epstein sex trafficking case.