Mueller Investigation Started by Fraud, Roseanne Dangerous, Credit Crisis Coming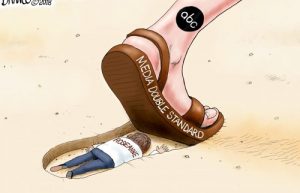 By Greg Hunter's USAWatchdog.com (WNW 337 6.1.18)  
The Mueller investigation into Russia colluding with the Trump campaign was started with FBI paid spies. Congressman Trey Gowdy calls them "informants," but other top former federal prosecutors call them spies that were hired to plant phony evidence to try and get Trump kicked out of office.
Roseanne Barr was fired from her show, and it was cancelled all because of what ABC called a "racist" tweet involving former Obama advisor Valerie Jarrett. I don't think Barr was fired for this tweet, but she was fired because she was waking up the masses to what the Deep State and George Soros were doing to America.  According to Barr, Soros is trying to initiate an "overthrow of US Constitutional Republic."  The ideas she was putting out on her show were so dangerous to the Deep State they were willing to flush $60 million in revenue a year by cancelling the hit TV show.
Deutsche Bank (DB) is flashing a warning sign again. This time, the FDIS added it to a list of problem banks.  Could DB start another credit crisis by imploding like Lehman Brothers did in 2008?  DB is so big it makes Lehman look like a kiosk.
Join Greg Hunter as he talks about the top stories from the past week in the Weekly News Wrap-Up.
(To Donate to USAWatchdog.com Click Here)
After the Wrap-Up:
Peter Schiff is the guest of the "Early Sunday Release." Schiff has a stark warning what is coming and tells all to "enjoy the calm before the storm."