Pelosi Trump Battle, Clinton Benghazi Email, Media Continues to Lie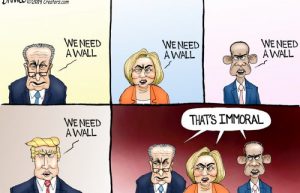 By Greg Hunter's USAWatchdog.com (WNW 367 1.18.19)
The battle to fund security and a wall on the U.S. southern border continues. The tit for tat this week includes Speaker Pelosi disinviting President Trump to the House of Representatives for his annual State of the Union address. Trump countered Pelosi by stopping her from taking a trip abroad on government aircraft (including a stop in Brussels) one hour before she and her crew were about to leave. The President told her to stay in Washington to negotiate an end to the partial government shutdown, and if she must fly, she should fly commercial.
President Trump is canceling his trip to the World Economic Forum in Davos, Switzerland. It's not just his trip he's canceling, but his entire cabinet, too. The strange thing is French President Macron and UK PM May are also canceling their trips to Davos. Each are facing their own turmoil in their respective countries. Trump is battling a government shutdown over security, Macron is battling the protests of the "Yellow Vest" movement and May is battling the so-called Brexit that failed miserably in the UK parliament this week. The one thing all these problems have in common is the globalist New World Order has something to do with each of them.
The mainstream media continues to lie and function as a propaganda machine, not a free press that wants to inform its citizens. New research has come out, and 90% of the coverage by the big networks continues to put a negative spin on the actions of the Trump Administration 90% of the time. Stats like this prove propaganda and not honest reporting.
Join Greg Hunter as he talks about the most important stories this week in the Weekly News Wrap-Up.
(To Donate to USAWatchdog.com Click Here)
After the Wrap-Up:
Professor of Economics Mark Skidmore gives us an update on the story the mainstream media lies to you about. (I am talking about you, Washington Post.) The 'missing' $21 trillion in money from the DOD and HUD. No other story is more important to your constitutional rights and the value of your money and retirement.