Trump Fights Fed, Buy Gold, More MSM Propaganda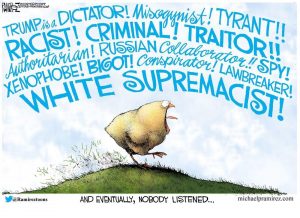 By Greg Hunter's USAWatchdog.com (WNW 397 8.23.19)
If you think the latest stumbles in the U.S. economy were caused by the so-called trade war with China – think again. The reason why the economy is sputtering is the Federal Reserve. It raised rates only 2 times during the 8 years of the Obama Administration. In the first 2 ½ years of the Trump Administration, it raised interest rates 7 times. On top of that, the Fed started what it calls "quantitative tightening" (QT) during Trump's first few months in office. QT takes liquidity out of the economy. At its peak, the Fed was burning $50 billion a month that businesses and consumers could no longer have access to. So, when you hear the President blame the Fed for economic troubles, rest assured he is correct.
The gold bandwagon is filling up with some of the biggest names in the investment world. Ray Dalio, who manages the biggest hedge fund in the world, is telling people to "buy gold." Now, former Franklin Templeton ($28 billion) money manager Mark Mobius is telling people to "buy gold at any level." What do rich money managers see coming?
The mainstream media (MSM) has basically turned into a propaganda machine for the Democrats and the New World Order globalists. The most recent confirmation of this is leaked audio of the brass at the New York Times discussing dumping the fake hoax of the Russian Trump collusion narrative for a new narrative—Trump and his voters are racist. This, of course, is yet another propaganda lie the MSM is telling to stop President Trump in the 2020 election.
Join Greg Hunter as he talks about these stories and more in the Weekly News Wrap-Up.
(To Donate to USAWatchdog.com Click Here)
After the Wrap-Up: 
Best-selling author Jonathan Cahn will come on to talk about his new book called "The Oracle."