Trump Stops Syrian War, Mueller Witch Hunt Continues, Bankers Keep Cheating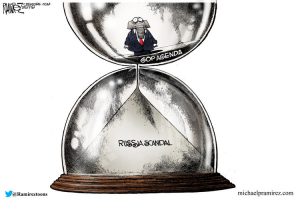 By Greg Hunter's USAWatchdog.com (WNW 293 7.21.17) 
Did President Donald Trump just signal an end to the Syrian civil war? President Trump just announced he was ending a covert CIA program to arm the so-called rebels.  It was ISIS and al Qaeda we were supporting because the Free Syrian Army has long been dismantled.  Is this the deal that Trump was cutting in his more than two hour meeting at the G-20?  The Syrian war has taken the lives of nearly 500,000 people and displaced millions more.
Special Prosecutor Robert Mueller is expanding his probe. Now, he's going beyond the so-called Russian collusion story and probing Trump's business transactions.  Mueller and his staff of mostly Democrat lawyers (who are also donors to top Democrats) are going to be looking at transactions as old as 10 years.  Trumps says this is unfair, and Mueller is crossing the line if he delves into the family business.
You can chalk up another fine for another big bank for market rigging. This time it's BNP Bank, and it was fined $246 million after traders for the bank were caught in chat rooms rigging the currency markets.  Nobody goes to jail for felony law breaking, and the best part for them is shareholders are the ones that actually pay the fines, not the criminal bankers.
Join Greg Hunter as he talks about these stories and more in the Weekly News Wrap-Up.
After the Wrap-Up: 
The guest for the "Early Sunday Release" is filmmaker, author and 25 year radio host, Steve Quayle of SteveQuayle.com.
(To Donate to USAWatchdog.com Click Here)